For the First Time, Two Women Advance to Final Stage of Army Ranger Training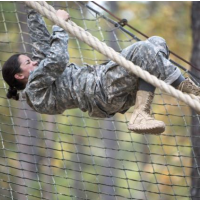 Ranger School trainee (photo: Patrick A. Albright, AP)
Two female officers could soon become the first women to graduate from the U.S. Army's grueling Ranger School.
The two women, whose names were not published, recently finished the Mountain Phase of the training, which consisted of 20 days of climbing, hiking, rappelling and patrolling through the mountains of the Chattahoochee National Forest in Georgia, mostly on little sleep and with little food.
They will join 125 male soldiers for the final stage of the Ranger School: the Swamp Phase at Camp Rudder on Eglin Air Force Base in Florida's panhandle. There, they will undergo another 17 days of training to learn waterborne operations, small boat movements and stream crossings. They also will execute extended platoon-level operations in a coastal swamp, according to the Army Times.
A third female student did not finish the Mountain Phase, but will try again along with 60 men who also will repeat that phase of the course.
The three women needed three attempts to complete the school's first test, the Darby Phase at Fort Benning, Georgia. More than 100 men also failed at least once during this phase, which lasts 20 days and is designed to test the physical fitness and mental toughness of students.
If the women make it all the way through Ranger School, they will receive the coveted Ranger tab. However, they will not be permitted to serve with the 75th Ranger Regiment, which performs special operations missions, according to The Washington Post. However, many men who complete Ranger school serve in other units as well.
The women are part of a one-time experiment as the Army attempts to find out which combat jobs may be opened to women. The services may close off certain jobs to women, provided they show why they wouldn't be suitable for the assignments.
-Noel Brinkerhoff, Steve Straehley
To Learn More:
Two Female Ranger Students Move On To Swamp Phase (by Michelle Tan, Army Times)
Two Women Pass Mountain Phase At Ranger School, Now One Step Short Of Graduation (by Dan Lamothe, Washington Post)