FDA Declares Partially Hydrogenated Oils (Trans Fats) Unsafe to Eat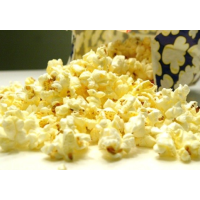 (photo: Getty Images)
The Food and Drug Administration (FDA) has decided that artificial trans fats are no longer safe to eat. A new determination (pdf) strips the product of its "generally recognized as safe" status, and gives the industry three years to alter products and recipes to comply.
Any company wishing to add trans fats to their food will have to ask permission from the FDA and subject the product to a safety assessment, according to the Center for Public Integrity.
Health experts have called for the phasing out of trans fats in food because they have been linked to chronic health problems like heart attacks, strokes and Type 2 diabetes. Trans fats are made when liquid oil is treated with hydrogen gas and made solid. Crisco shortening was originally the basic version of trans fats, although it's no longer made with them.
Stephen Ostroff, the FDA's acting commissioner, said in a statement: "This action is expected to reduce coronary heart disease and prevent thousands of fatal heart attacks every year." The change could result in 20,000 fewer heart attacks and 7,000 fewer deaths each year from heart disease, the FDA says.
"This is the final nail in the coffin of trans fats," Michael F. Jacobson, executive director of the consumer group Center for Science in the Public Interest, told The New York Times. "In terms of lives saved, I think eliminating trans fats is the single most important change to our food supply."
The food industry intends to ask the agency for permission to keep using small amounts of trans fats in certain products.
Cakes, most peanut butters, microwave popcorn and frozen bakery products are among the items that almost always contain trans fats, according to Pure Zing.
-Noel Brinkerhoff
To Learn More:
FDA's Trans Fats Ban Bucks Hands-Off Approach (by Chris Young, Center for Public Integrity)
FDA Sets 2018 Deadline to Rid Foods of Trans Fats (by Sabrina Tavernise, New York Times)
Partial List of Foods Almost Always Made With Partially Hydrogenated Oils (Pure Zing)
Final Determination Regarding Partially Hydrogenated Oils (Department of Health and Human Services) (pdf)