FAA Gives First Approval to Commercial Development on the Moon
Friday, February 06, 2015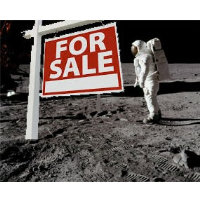 (photo illustration: Steve Straehley, AllGov)
The Federal Aviation Administration (FAA) has decided it has at least some legal authority to regulate commercial development on the moon, demonstrated by its recent correspondence with a lunar entrepreneurial firm.
In a letter to Bigelow Aerospace obtained by Reuters, the FAA said its "existing launch licensing authority" can be used "to encourage private sector investments in space systems by ensuring that commercial activities can be conducted on a non-interference basis."
The document seems to be saying that Bigelow can go ahead with its plans to establish an inflatable habitat on the moon while enjoying "exclusive rights" and other areas involving mining and exploration, Reuters' Irene Klotz wrote. The company is set to test one of its modules at the International Space Station soon and it would be followed in 2025 by a moon mission.
Company founder Robert Bigelow says the letter isn't a property deed. It "doesn't mean that there's ownership of the moon," Bigelow told Reuters. "It just means that somebody else isn't licensed to land on top of you or land on top of where exploration and prospecting activities are going on, which may be quite a distance from the lunar station."
When asked about the letter, George Nield, associate administrator for the FAA's Office of Commercial Transportation and author of the letter, told Reuters: "We didn't give (Bigelow Aerospace) a license to land on the moon. We're talking about a payload review that would potentially be part of a future launch license request. But it served a purpose of documenting a serious proposal for a U.S. company to engage in this activity that has high-level policy implications."
The FAA did acknowledge that U.S. efforts to regulate lunar activity might run afoul with international agreements on space development.
The State Department noted "the national regulatory framework, in its present form, is ill-equipped to enable the U.S. government to fulfill its obligations" under a 1967 United Nations treaty, which, in part, governs activities on the moon, according to Klotz.
The U.N. Outer Space Treaty includes language requiring nations to authorize and supervise activities of private enterprises operating in space, including the moon.
Another company was a little more brazen in its approach to lunar commerce. Moon Express says it intends to bring moon dust or rocks back to Earth on its third mission to the satellite. "The company does not see anything, including the Outer Space Treaty, as being a barrier to our initial operations on the moon," Moon Express co-founder and president Bob Richards told Reuters. That includes "the right to bring stuff off the moon and call it ours."
-Noel Brinkerhoff, Steve Straehley
To Learn More:
The FAA: Regulating Business on the Moon (by Irene Klotz, Reuters)
Moon for Sale? U.S. Government Says Bigelow Aerospace Could Set Up Lunar Base with Land Rights (by David Sim, International Business Times)
America Is Already Planning to Regulate Business on the Moon (by Kelsey Campbell-Dollaghan, Gizmodo)