Embattled Peace Sign Fights to Be Seen Atop Historic 19th-Century Manhattan High-Rise
Saturday, October 08, 2016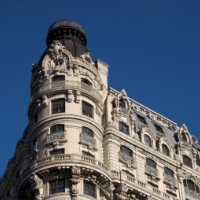 The top of the Ansonia building, Manhattan (photo: Barry Winker, Getty Images)
By Adam Klasfeld, Courthouse News Service
MANHATTAN (CN) — A federal court ordered the international symbol of peace and nuclear disarmament in the 17th-story window of an historic Upper West Side apartment unplugged. On Wednesday, Manhattan clothing designer Brigitte Vosse, who got a $800 fine for hanging the sign, fought to restore its power at the Second Circuit.
Her lawyer Timothy Collins, from the Manhattan-based firm Collins, Dobkin & Miller, tried to convince the court panel that the "First Amendment doesn't stop at the second or third floor of an urban high-rise."
During a nearly 30-minute hearing, a three-judge panel sharply questioned that premise, asking how much the Constitution protects not only a person's right to wave a banner but also to have it seen.
Ironically, Wednesday's arguments took place in the ceremonial courtroom of the Thurgood Marshall Courthouse, located on the same floor where Vosse shone her anti-war message.
In December 2010, Vosse decided to hang her peace sign with LED tubes in her living room alcove window "to express to the viewing public [her] opposition to war as a solution to human problems — including [her] disagreement with American military policies with respect to Iraq and Afghanistan," according to court papers.
The pacifist symbol held special meaning on the turret of the neighborhood's iconic Ansonia building, where it hung for a year before Vosse received a violation.
Built in 1899, the Ansonia earned its place on the U.S. Register of Historic Places with its connections to social idealism and scandal. Architect William Earle Dodge Stokes originally designed the building as a residential hotel with a rooftop farm, as a utopian experiment at self-sufficient living at the turn of the 20th century.
It is also remembered in "Eight Men Out," a book later adapted into a beloved Hollywood sports movie, as the site where a first baseman for the Chicago White Sox recruited other players to throw the 1919 World Series.
The storied legacy of that and other local buildings led to heavy zoning regulations, including codes barring any illuminated signs higher than 40 feet from the ground.
New York City Law Department attorney Elizabeth Natrella insisted that she has no problem with Vosse's message, but she said that loosening these regulations could add "visual clutter" to the cityscape and "wreak havoc on the quality of urban life."
U.S. District Judge Jed Rakoff found in the city's favor on these grounds last year.
Vosse's attorney Collins, who argued the case with co-counsel Gideon Oliver, was quick to note that the city already makes exemptions to its signage rules for civic, philanthropic educational, and religious groups.
For Collins, these exceptions "undermine the city's credibility" that authorities are simply making reasonable time, place and manner restrictions permitted by the First Amendment.
"If [Vosse] were to put up a non-illuminated sign, it would be terribly obscured during the day and invisible at night," Collins said.
Circuit Judge Gerard Lynch suggested that Vosse's right to be seen only went so far.
"Why does that matter?" Lynch asked.
"If you had a cabin in the woods, and you wanted to put up a giant electric sign saying, 'Vote for Trump' and 'Vote for Clinton,' and you wanted it to be on stilts, and illuminated because otherwise you couldn't see it from the interstate, which is a few miles away, would you have an absolute right to do that such that any environmental concerns would be trumped?" the judge added, ending on a subtle pun.
U.S. District Judge Christina Reiss, sitting by designation from the much more rural District of Vermont, echoed the concerns of Lynch's cabin-in-the-woods example.
"The First Amendment doesn't guarantee the best way of conveying your message, right?" she asked.
"That is correct," Collins acknowledged, "but it does guarantee that you should have an effective way."
That argument appeared to resonate with the final judge on the panel, Circuit Judge Christopher Droney, who questioned whether the zoning restrictions counted as a "prohibition" rather than a "regulation."
"Nobody can see these signs, these unlit signs," Droney noted.
"I think hers is 160 feet from the ground," he added. "So maybe at 40 feet you can see something off the ground, but at 160 feet, if you put a peace sign in her window, nobody could see it. That's probably true at 100 feet, 80 feet."
The panel ultimately reserved decision on the matter, leaving the political-speech question unresolved in an election year.
Asked about Judge Lynch's hypothetical about presidential lawn signs, attorney Collins quipped to reporters: "My Trump sign is locked under my bed."
The civil liberties attorney then added, for those who missed the joke, that he is "not a Trump supporter."
To Learn More:
Lights Out for Digital Billboards in Los Angeles . . . for Now (by Ken Broder, AllGov California)