Donald Trump Claims Antifa and Black Lives Matter Infiltrated his Brain
Tuesday, February 09, 2021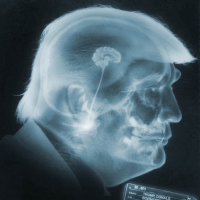 (graphic: FreakingNews.com)
Former president Donald Trump ordered his current lawyers to present an unusual defense of the various crimes he is accused of committing: incitement to riot and insurrection, obstruction of justice, financial fraud and lying on his tax returns and more. Trump says that as soon as he became the Republican candidate for president, Antifa and Black Lives Matter infiltrated his brain and caused him to say things he didn't believe.
Citing what is known as the Manchurian Candidate Defense, Trump claims he had always been a perfectly nice guy, loved by women and some other people. Then, through exposure to the radical socialists of the Democratic Party, he was brainwashed by Antifa and Black Lives Matter to launch into violent rants that turned possible supporters against him.
Sensing a potentially viable strategy, several of Trump's friends jumped on the bandwagon.
Lou Dobbs. Maria Bartiromo and Jeanine Pirro of Fox News, and lawyers Sidney Powell and Rudy Giuliani had accused Smartmatic, an election technology company, of rigging the vote totals in the swing states of Arizona, Georgia, Michigan, Nevada, Pennsylvania, and Wisconsin. Actually, Smartmatic's software had been used in only one county, Los Angeles County, so Smartmatic filed a $2.7 billion defamation suit against Fox News and the False Reporting Five.
In a panic, Dobbs, Bartiromo, Pirro, Powell and Giuliani all claimed that they too had been brainwashed. But they didn't say by whom.
-David Wallechinsky
(satire)