Divided Court Rules DNA Collected without Consent can be Used against Accused
Thursday, September 04, 2014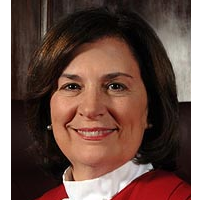 Maryland Chief Judge Mary Barbera
A Maryland appellate court has ruled that police can collect and use a suspect's DNA without his consent during the course of an investigation that leads to prosecution.
Glenn Joseph Raynor was found guilty of a 2006 rape of a Bel Air woman, whose identity was concealed in court records, after officers gathered samples of his genetic material during questioning. After refusing to supply a DNA sample through a mouth swab, Raynor inadvertently did so anyway, providing officers with the opportunity to collect his DNA samples when he continually rubbed his arms on the chair he sat in while being interrogated.
After he left the station, police swabbed the armrests of the chair, the results of which revealed a match with blood samples found at the crime scene.
"Before trial, Raynor argued unsuccessfully that the warrantless collection and testing of cellular material he shed during his interview constituted an unreasonable search and seizure under the Fourth Amendment," Rose Bouboushian of Courthouse News Service wrote.
Raynor was convicted of two counts of rape, and sentenced to 100 years in prison. His lawyer appealed the conviction and again argued that police had violated his client's constitutional rights by collecting the DNA without his permission.
But the Maryland Court of Appeals ruled 4-3 in favor of the state, saying there was nothing improper with the way officers came to possess Raynor's genetic blueprint.
"The police did not seize genetic material from petitioner, nor in any way search him for it, but rather, collected it from an object on which the material had been left," Chief Judge Mary Barbera wrote for the majority.
Judge Sally D. Adkins, who wrote a dissenting opinion, warned of the ruling's impact on privacy and the Constitution's protection against illegal searches and seizures. "The majority's approval of such police procedure means, in essence, that a person desiring to keep her DNA profile private, must conduct her public affairs in a hermetically sealed hazmat suit," Adkins wrote.
"The ongoing debate regarding cloud technology and collecting intangible data depicts the tremendous intrusions that can occur without a physical invasion," she added, as well as this: "I strongly submit that a person's DNA deserves at least as much protection as one's whereabouts based on cell phone data."
-Noel Brinkerhoff
To Learn More:
Inadvertantly Shed DNA Was Fair Game for Police (by Rose Bouboushian, Courthouse News Service)
Prof. Warnken Argues DNA 'Case of First Impression' (University of Baltimore)
Judge Warns Privacy of DNA at Stake after Ruling (by Ian Duncan, Baltimore Sun)
Glenn Joseph Raynor v. State of Maryland (Maryland Court of Appeals)
Police May Take DNA Sample without Warrant after Arrest, Supreme Court Rules in Unusual Split Decision (by Danny Biederman and Noel Brinkerhoff, AllGov)