Death by Selfie…the Numbers are Rising
Friday, September 25, 2015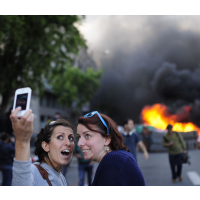 Massive flames erupt behind selfie-takers at a demonstration in Barcelona, Spain, 2014 (photo: Manu Fernandez, AP)
As people become more daring in their desire to break new ground in the course of taking selfies, they have increased the risk to their lives. By placing themselves in increasingly dangerous situations to enhance the dramatic effect of their photographs, some selfie-takers are getting killed. And the frequency of those incidents appear to be on the rise.
To date, 12 people around the world have died this year while trying to take a photo of themselves. That's the same number of selfie-related deaths for all of 2014, according to a tally of selfie-related injuries and deaths made by Wikipedia.
With three months to go in 2015, it is possible the number of people suffering fatal injuries in the course of using their phone's camera will eclipse last year's toll. At this point, selfie fatalities exceed shark attack deaths by 33% this year.
Mashable noted "parks have closed because visitors keep trying to take selfies with bears [and] bull runs. Even Tour de France cyclists are concerned about selfie danger."
The death-by-selfie tragedies include people falling off cliffs or down stairs, or being hit by trains while trying to incorporate danger into their images. Specific selfie fatalities have included these occurrences:
· In two separate incidents, a Spanish man and a Romanian teenager were each electrocuted to death by live wires they touched while taking a selfie on top of trains.
· A Cessna pilot, distracted while taking selfies, lost control of his plane, killing himself and his passenger.
· Several people have been shot to death when guns they held to their heads for selfies accidentally discharged.
· A Puerto Rican musician died in a traffic accident while snapping selfies as he rode his motorcycle.
· Two men blew up when they took a photo of themselves pulling the pin out of a hand grenade.
· An Indonesian man fell into an active volcano while posing for what he hoped would be a spectacular selfie.
-Danny Biederman
To Learn More:
More People Have Died from Selfies Than Shark Attacks This Year (by Cailey Rizzo, Mashable)
List of Selfie-related Injuries and Deaths (Wikipedia)
Shark Attack and Related Incident (Shark Attack Survivors)