Deadliest State for Driving—Montana; Least Deadly—Massachusetts
Saturday, November 07, 2015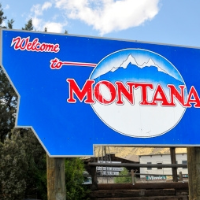 (photo: Dennis Macdonald, Getty Images)
Motorists would be well advised to take extra care when driving through Montana. Researchers at the University of Michigan Transportation Research Institute say that state has the highest road death rate in the country.
Using data from the National Highway Traffic Safety Administration and the Centers for Disease Control and Prevention, Michael Sivak and Brandon Schoettle found there were 32,719 traffic fatalities in 2013.
Sivak and Schoettle then determined the car crash death rates for each state. Montana had the highest, 22.6 per 100,000 people, more than twice the national rate. Behind Montana were Mississippi and North Dakota, both 20.5, West Virginia (17.9), and Alabama (17.6).
States in the Northeast had the lowest rates, led by Massachusetts' 4.9. New Jersey and New York (both 6.1) and Rhode Island (6.2) were also near the bottom of the rankings.
CityLab noted "these states are all located along the Boston-N.Y.-Washington Corridor on the East Coast, where mass transit is much more available and widely used," which might explain why their rates are so much lower than Montana's.
Another factor is speed. The states with the highest death rates also have higher speed limits. All have top speed limits of at least 70 mph and some, like Montana, have top limits of 80 mph. For a time in the 1990s, Montana had no top speed limit, merely requiring motorists to drive in a "reasonable and prudent manner."
There are also demographic correlations to highway deaths. The researchers found that states with poorer and less-educated populations had higher road death rates than those having populations with higher incomes and more education.
-Noel Brinkerhoff, Steve Straehley
To Learn More:
The Geography of Car Deaths in America (by Richard Florida, CityLab)
The States with the Most Deadly Accidents (by Mark Lieberman and Thomas C. Frohlich, 24/7 Wall St.)
State Traffic Data (National Highway Traffic Safety Administration) (pdf)
Mortality from Road Crashes in the Individual U.S. States: A Comparison with Leading Causes of Death (by Michael Sivak and Brandon Schoettle, University of Michigan) (abstract) (pdf)
Drivers in Republican-Leaning States more likely to Die in Accidents than those in Democratic States (by Noel Brinkerhoff, AllGov)
Traffic Deaths Hit 60-Year Low (by Noel Brinkerhoff, AllGov)