Court Rules Hawaii Cannabis Ministry May Not Distribute Marijuana for Religious Purposes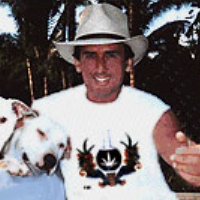 Rev. Roger Christie--Credit: Hawaii Cannabis Ministry
By Elizabeth Warmerdam, Courthouse News Service
Federal law does not protect the right of two ministers of the Hawaii Cannabis Ministry to distribute large amounts of marijuana for their religious practices, the Ninth Circuit ruled (pdf) Tuesday.
A three-judge panel upheld the ministers' drug-related convictions, rejecting their argument that the convictions violate their rights to exercise their religion under the Religious Freedom Restoration Act.
The Rev. Roger Christie founded the Hawaii Cannabis Ministry in 2000 in Hilo, a city on the island of Hawaii, with the vision of it being a community where cannabis could be celebrated as a sacrament.
Advertising the ministry's slogan — "We use cannabis religiously and you can too" — and promising that those who joined his flock would be out of the reach of federal drug laws, Christie saw the ministry gain 3,000 converts on the island, and another 62,000 worldwide.
The ministry's website promised freedom from arrest and prosecution for marijuana charges as soon as members signed up, and made it clear that there was no minimum age to join and that even minors could become members.
The ministry, which obtained a portion of its marijuana from a black market in and around Hilo, distributed the drug to those who attended "communion" at Sunday services and also to those who went in person to the sanctuary. Members were given the cannabis in exchange for a suggested donation price.
By April 2009, the ministry was distributing more than half a pound of cannabis nearly every day to approximately 60 or 70 people, according to court records.
The federal government began investigating Christie and the ministry in 2009, which ultimately led to the indictment of Christie and his wife, Rev. Sherryanne Christie, for a handful of drug-related offenses.
Roger Christie pleaded guilty to one count of conspiracy to manufacture and distribute 100 or more marijuana plants, and Sherryanne Christie pleaded guilty to one count of conspiring to manufacture and distribute 50 or more marijuana plants.
Writing for the panel, Judge Diarmuid O'Scannlain upheld the Christies' convictions on Tuesday, finding that "the government has a compelling interest in preventing drugs set aside for sacramental use from being diverted to non-religious, recreational users."
There is more than enough evidence that the ministry's loose distribution methods gave rise to a realistic threat of cannabis making it into the hands of recreational users, O'Scannlain said.
"The problem is not simply that the Christies hardly regulated who could join the ministry, or even that they actively marketed their church as a safe haven from the federal drug laws," O'Scannlain wrote. "More troubling is that even the barebones membership requirement was not enforced as a meaningful check on who could receive the ministry's cannabis. Cannabis distributed through the ministry seemed available to anyone to use anywhere; the Christies simply gave cannabis to those who showed up, took their money, and sent them on their way."
Such illegal, non-religious use is not protected by the Religious Freedom Restoration Act, or RFRA, the judge said.
The panel also shot down the Christies' argument that they should be allowed to use cannabis the way Native American churches are allowed to use peyote for sacrament.
"As courts have repeatedly emphasized, cannabis differs critically from peyote and hoasca precisely because there is a thriving market for diverted cannabis, whereas there is no comparable demand for recreational peyote and hoasca," O'Scannlain wrote.
The Christies were unable to persuade the panel that the RFRA is unconstitutionally vague and thereby renders the Controlled Substances Act under which they were convicted unconstitutionally vague.
"RFRA cannot be unconstitutionally vague because it is not a penal statute or anything like one. It does not define the elements of an offense, fix any mandatory penalty, or threaten people with punishment if they violate its terms," O'Scannlain said. "Rather, it supplies religious objectors like the Christies with an affirmative defense to criminal prosecution."
Prosecution under a clear criminal law, such as the Controlled Substances Act, cannot be invalidated simply because the law is subject to an affirmative defense that is vague, the judge said.
Attorneys for the parties did not immediately respond to a request for comment Tuesday.
To Learn More:
Church of Cannabis Uses Indiana's Religious Freedom Law to Challenge Anti-Marijuana Law (by Steve Straehley, AllGov)
Violent Crime Down Since Colorado Legalized Marijuana (by Noel Brinkerhoff, AllGov)
U.S. vs. Sherryanne L. Christie; U.S. vs. Roger C. Christie (pdf) (Ninth Circuit Court of Appeals)