Connecticut Supreme Court Refuses to Release Medical Record of Notorious Serial Killer Convicted in 1917
Thursday, September 24, 2015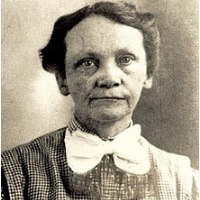 Amy Archer-Gilligan (photo: Wikipedia)
The medical records of an early 20th century serial killer will not be released, according to the Connecticut Supreme Court.
The court ruled (pdf) that the records pertaining to Amy Archer Gilligan will remain private despite efforts by a Connecticut resident and author, Ron Robillard, to learn more about the serial killer.
Gilligan was the inspiration for the film "Arsenic and Old Lace" after she was convicted of poisoning a resident of a nursing home she ran in Windsor. She was originally charged with five murders, including that of her second husband, and may have been responsible for dozens of others.
Gilligan was confined to a Connecticut-run psychiatric hospital from 1924 until she died in 1962.
The court stopped the release of 200 pages of psychiatric, medical and dental records related to Gilligan, which would have been done by the Department of Mental Health and Addiction Services. Robillard had requested the release of those records.
"Our understanding of the broad veil of secrecy created by the psychiatrist-patient privilege also supports our conclusion that medical and dental records that are created by an inpatient mental health facility during the treatment of a patient are exempt," Justice Dennis Eveleigh wrote for the majority.
The release of medical records would set a dangerous precedent, Assistant Attorney General Jacqueline Hoell said, according to Courthouse News Service. "The impact that this would have on a patient's ability to be open and frank with their mental health providers is really important," she said. "For example a woman may not want to disclose to her psychiatrist that she had an abortion in the past and that's causing her depression or she may not want to give her psychiatrist access to past medical records . . . if she knows that these may become subject to the Freedom of Information Act."
Public interest in the records shouldn't matter, Hoell said. "Legitimate public concern—it's not equivalent to curiosity and that's essentially what we have in this case."
-Noel Brinkerhoff, Steve Straehley
To Learn More:
Arsenic Killer's Medical Records Kept Sealed (by Christine Stuart, Courthouse News Service)
True Crime Story behind Classic Comedy, 'Arsenic & Old Lace' (by Mara Bovsun, New York Daily News)
Amy Archer-Gilligan, Connecticut Eldercare Serial Killer - 1916 (The Unknown History of Misandry)
Freedom of Information Officer, Department of Mental Health and Addiction Services, et al. v. Freedom of Information Commission et al. (Connecticut Supreme Court) (pdf)