Cigarette Giant Bans Smoking at the Office
Saturday, October 25, 2014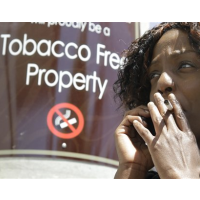 (photo: David Duprey, AP)
Attention employees of the second-largest tobacco producer in the U.S.: Smoking will no longer be permitted in the office. Please withhold the snickering, thank you.
Reynolds American Inc., maker of Camel, Kool and other cigarettes, has decided to bar the smoking of tobacco products at its corporate headquarters. Those wishing to puff on cigarettes, cigars and pipes will have to use designated indoor smoking areas, which won't be ready until 2016. That's when the new policy will go into full effect. However, anyone using e-cigarettes will be permitted to smoke away wherever they like.
Reynolds spokesman David Howard told Bloomberg that the company realizes how the ban will likely be perceived. "We're well aware that there will be folks who see this as an irony, but we believe it's the right thing to do and the right time to do it," Howard said.
Reynolds is led by Chief Executive Officer Susan Cameron, who gave up cigarettes in favor of vaping. The company has begun to put a big marketing effort behind its electronic cigarettes, and part of that push is admitting that the new product is safer than traditional smokes.
The company had previously banned smoking in its factories, cafeterias and fitness centers. Industry leader Philip Morris, owned by Altria Group, has banned smoking from public areas in its buildings, but allows it in private offices and smoking areas in cafeterias, conference areas and elsewhere.
-Noel Brinkerhoff
To Learn More:
Reynolds Notes the Irony in Its New Office Smoking Ban (by Duane D. Stanford, Bloomberg)
Cigarette Company Finally Bans Workers From Smoking At Their Desks (by Michael Felberbaum, Huffington Post)
Tobacco Company Bans Smoking in the Office (by Jena McGregor, Washington Post)
$23.6 Billion Jury Award in Smoking Case Unlikely to Survive Appeal (by Noel Brinkerhoff, AllGov)
With 1,200 Deaths a Day, Tobacco Companies Finally Agree to Publish Ads Admitting They Lied about Dangers of Smoking (by Noel Brinkerhoff, AllGov)