Christian Population in U.S. Slips; Unaffiliated Grow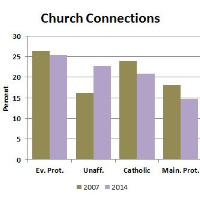 (graphic: Steve Straehley, AllGov)
The share of the U.S. population that identifies with Christianity is falling, while the numbers of those unaffiliated with any religion is rising, according to a new survey.
The percentage of Christians in the U.S. population dipped from 78.4% in 2007 to 70.6% in 2014, according to Pew Research Center.
Pew researchers found the decline in Christian affiliation is particularly pronounced among young adults, but is occurring among all ages. The median age of unaffiliated adults is 36, down two years from 2007, Pew said.
Those in the West are most likely to be unaffiliated, at 28%, according to Pew. Twenty-five percent of Northeasterners, 22% of Midwesterners and 19% of Southerners also said they were unaffiliated.
The decline was most pronounced among mainline Protestants and Catholics, each of which saw about a 3% drop. Evangelical Protestants also declined, though only by about 1%.
While the Christian ranks shrank over the seven years of the study, the percentage of Americans who are religiously unaffiliated—atheist, agnostic or "nothing in particular" —went from 16.1% to 22.8%.
The number of those of non-Christian faiths also has increased slightly, from 4.7% in 2007 to 5.9% in 2014. Pew said that growth was largely among Muslims and Hindus.
-Noel Brinkerhoff, Steve Straehley
To Learn More:
America's Changing Religious Landscape (Pew Research Center)
Christians are Overrepresented in Congress (by Noel Brinkerhoff, AllGov)