Candidate for New Hampshire Governor Sued for Using Statewide Billboards to Defame Public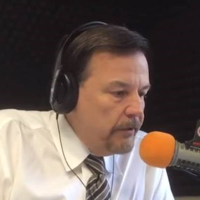 Michael Gill (photo: stateofcorruption.org)
By Pamela Baker, Courthouse News Service
MANCHESTER, N.H. (CN) — The would-be governor of New Hampshire used an electronic billboard and his radio show to accuse local businessmen of selling guns, dealing drugs and killing children, they claim in court.
In addition to running for governor, Michael Gill, of Derry, owns a Plaistow business called The Mortgage Specialists.
Gill has electronic billboards across the state for his company and has been using them since March, according to the complaint, to make defamatory statements about three Bedford businessmen.
Dick Anagnost, H. Andrews Crews and William Grenier say the billboard on which Gill has been broadcasting these statements in Manchester is "in a heavily trafficked area," adjacent to a popular mall.
Anagnost says his picture and name appeared on the billboard along with the words "Drug Dealer." Crews received the same treatment on the billboard, while Greiner's photo and name was displayed with the tag "Extortion," according to the complaint.
While Anagnost and Crews say they are helping develop an addiction-rehabilitation nonprofit called Hope for NH Recovery, the complaint does not indicate how Grenier, former Bedford town councilor, is connected to the controversial development.
Gill allegedly used his website, stateofcorruption.org, and the Facebook page for State of Corruption, to say that the treatment center sells drugs to children, profiting off "the kids that don't die."
The post concludes, according to the complaint, by noting that Grenier "sits right between" Anagnost and Crews as the director of Premier Bank.
Gill also mentioned Anagnost, Crews and their treatment center in several broadcast of a weekly talk-radio show he co-hosts with Aaron Day, of Bedford, the complaint says.
Gill allegedly claimed in one broadcast to have found out "through witnesses inside this warehouse that they're selling heroin."
"Remember, they're entrepreneurs, so they're also selling guns," Gill also said, as quoted in the complaint.
Another broadcast informed listeners: "they are your heroin dealers in this state. Been for twenty years. And listen, if I'm wrong, you get to sue me."
Anagnost, Crews and Grenier brought their suit against Day, Gill and Gill's business on April 18 in Hillsborough Superior Court, seeking enhanced damages for defamation they describe as wanton and malicious.
Anagnost, a successful real estate developer recently named NH Magazine's Business Leader of the Year, is the father of a recovering heroin addict. He's teamed with Crews, the CEO of AutoFair and TIME Magazine's 2015 Dealer of the year, to construct and donate Hope Center. The building will be home to the nonprofit group Hope for Recovery as a resource to help addicts as NH faces a growing heroin crisis. The lawsuit alleges that in a TV interview, later reposted to his website and Facebook, Gill called the treatment center a "funny deal."
"Let's get our children addicted to heroin and then own the treatment centers," he said, according to the complaint.
It's not the first time Gill's billboards have landed him in hot water. A previous sign sparked outrage for displaying an obscenity in an attack on U.S. Sens. Jeanne Shaheen and Kelly Ayotte for corruption.
The Union Leader reported that Gill was also recently jailed in contempt of court for an outburst during a divorce proceeding.
Timothy McLaughlin with the Concord firm Shaheen & Gordon represents the plaintiffs.
The Mortgage Specialists Inc. did not return a request for comment.
To Learn More:
Airbnb Apologizes for Trying to Woo S.F. Voters with Obnoxious Billboards (by Ken Broder, AllGov California)
Mothers of Murder Victims Pay for Billboards of their Lost Relatives (by Noel Brinkerhoff, AllGov)
Whistleblower Exposes Tree Poisoning in Billboard Business (by David Wallechinsky and Noel Brinkerhoff, AllGov)