California County Tried to Seize Marijuana Plants without Warrant because Growing them Wasted Water
Wednesday, October 22, 2014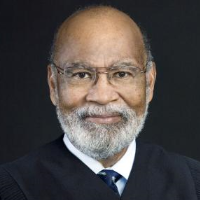 Judge Thelton Henderson
A federal judge has ruled (pdf) against a California county that seized marijuana plants on private property without first obtaining a warrant, all in the name of preserving water.
Lake County, which like the rest of the state is experiencing the impact of the ongoing drought, was sued by a group of medical marijuana patients who had their plants confiscated and/or destroyed during warrantless raids by law enforcement.
Officials insisted the plants had to go in order to help preserve water supplies for other purposes, and that the situation was so dire police need not obtain a court order first.
The county adopted an ordinance in July that banned "medical marijuana from being grown on vacant parcels of land, and using more than 100 square feet to grow marijuana indoors, among other things," Courthouse News Service reported.
But the federal judge overseeing the case disagreed with Lake County.
In granting the plaintiffs preliminary injunction calling a halt to the raids and seizures, U.S. District Judge Thelton Henderson wrote: "The need to reduce water use, even during a drought, falls below the level of urgency associated with emergencies justifying a warrantless search in existing case law."
He added: "The county's inexperience in obtaining warrants before conducting a search and seizure does not excuse the requirements of the United States Constitution. Moreover, defendants explained that, even with their lack of institutional capacity, it would take only about a day to obtain a warrant. Defendants give no reason for why they cannot wait one day to search the premises in these cases."
The plaintiffs in the case included the California Chapter of the National Organization for the Reform of Marijuana Laws and more than 200 individuals, at least seven of whom are medical marijuana patients.
-Noel Brinkerhoff
To Learn More:
Federal Judge Grants Preliminary Injunction against County of Lake over Warrantless Marijuana Searches (by Elizabeth Larson, Lake County News)
Sheriff Can't Seize Pot Plants without Warrant (by Nick McCann, Courthouse News Service)
Mona Allen v. Lake County (U.S. District Court, Northern California) (pdf)
Pot Farms Are Draining Humboldt Streams Amid Chaos over Marijuana Regulation (by Ken Broder, AllGov California)