Brazilian Study Concludes Breastfeeding Leads to Higher IQ and Income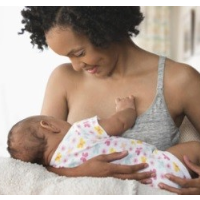 (photo: Getty Images)
Breastfeeding is good for a child's intellectual development and their future prosperity, according to researchers in Brazil.
A study (pdf) published in The Lancet Global Health says breastfeeding can result in higher IQ levels and fatter paychecks for offspring. Researchers examined data from nearly 3,500 volunteers, all in their 30s, whose development has been closely watched since they were babies. They found those who were breastfed for a year or more had IQ test scores that were 3.76 points higher than those who were breast-fed for less than one month. Furthermore, those who were breastfed the longest remained in school longer and had monthly salaries that were about a third higher.
"Breast-feeding not only has short-term benefits, but also breast-feeding has long-term benefits," Bernardo Lessa Horta of the Federal University of Pelotas in Brazil, who led the study, told National Public Radio.
-Noel Brinkerhoff
To Learn More:
Association between Breastfeeding and Intelligence, Educational Attainment, and Income at 30 Years of Age: A Prospective Birth Cohort Study from Brazil (by Cesar G. Victora, Bernardo Lessa Horta, Christian Loret de Mola, Luciana Quevedo, Ricardo Tavares Pinheiro, Denise P. Gigante, Helen Gonçalves and Fernando C Barros, The Lancet Global Health) (pdf)
Breast-Feeding Boosts Chances of Success, Study in Brazil Finds (by Rob Stein, National Public Radio)