Bank of America Ordered to Pay $1 Million for Harassing Couple with 700 Robocalls
Saturday, December 13, 2014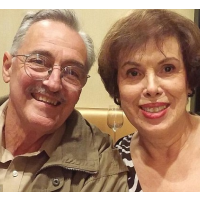 Nelson and Joyce Coniglio (photo: Coniglio Family)
Harassment comes at a price. Ask Bank of America.
Beginning in 2009, B of A started calling homeowners Joyce and Nelson Coniglio of Tampa, Florida.
The Coniglios had fallen behind on their mortgage, prompting the bank to unleash their robocaller—the computer system that routinely (if not maniacally) will call customers multiple times a day about bank debts.
In the Coniglios' case, the calls were relentless … upwards of five a day over a period of four years. The total reached 700.
Even after the couple won rulings in court ordering B of A to stop the calls, they just kept coming.
So the Coniglios sued the bank and won a $1.05 million settlement, which came out to about $1,500 for each robocall.
"This judgment against Bank of America is an epic win for consumers across the country," Billy Howard, an attorney for the Coniglios, told ABC News. "It's time to fight back against these 'robo-bullies.'"
-Noel Brinkerhoff
To Learn More:
Bank of America Ordered To Pay Tampa Family $1 Million for Harassing Calls (by Jamal Thalji, Tampa Bay Times)
Couple Wins $1M Suit Against Major Bank for 'Outrageous' Robocall Harassment (by Brian Ross, Stephanie Zimmermann and Randy Kreider, ABC News)
Bank of America Battles for Title of Meanest Bank in the Nation (by Noel Brinkerhoff, AllGov)