As Americans Get Fatter, So do Crash Dummies
Tuesday, November 04, 2014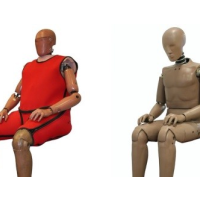 (photo: Humanetics)
To help make cars and driving safer for larger Americans, manufacturers are now making obese-sized crash test dummies.
"We're still testing with a dummy that was created in the '80s that weighs 170 pounds. It's not representative of the population, and obviously it's a much different load on the system," Humanetics CEO Chris O'Connor told USA Today.
"Obese people are 78% more likely to die in a crash," O'Connor told CNN. "The reason is the way we get fat. We get fat in our middle range. And we get out of position in a typical seat."
Similar numbers have from the University at Buffalo and Erie County Medical Center, which reported four years ago that moderately obese drivers have a 21% increased risk of death and morbidly obese drivers face a 56% increased risk.
Humanetics has a prototype dummy that weighs in at more than 270 pounds and has a body mass index of 35.
They also are more technology sophisticated than earlier models of dummies, capable of providing researchers with 130 channels of information, according to O'Connor.
-Noel Brinkerhoff
To Learn More:
Are Obese Crash Test Dummies the Key to Preventing Road Deaths? (by Kieron Monks and Nick Glass, CNN)
Crash Test Dummies Grow in Size to Reflect U.S. Obesity Rates (by Lauren Walker, Newsweek)
Lack of Exercise Blamed in Income Disparity of Childhood Obesity (by Noel Brinkerhoff, AllGov)