Art Stolen during World War II Finally Returns Home…to both Germans and Jews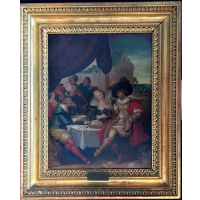 The Prodigal Son—Anna Bottinelli/Monuments Men Foundation via AP
The Nazis weren't the only ones stealing historic works of art during World War II. American soldiers also looted artwork, albeit on a much smaller scale. Now five of those pieces have been returned to the owner or their heirs, with another being returned from a Paris museum.
Three of the paintings—valued between $25,000 and $50,000—were the 17th-century "The Prodigal Son" by Frans Francken III; a landscape by the German artist Christian Wilhelm Ernst Dietrich; and "Landscape With Staffage," by an Austrian, Franz de Paula Ferg. Officials from Anhaltische Gemäldegalerie, a small museum in Dessau, had hidden them in a salt mine. A U.S. tank commander ended up with them after a poker game and shipped them home.
Two other works, stolen from the Kronberg Castle Hotel outside Frankfurt and returned to Germany, were an unattributed copy of a triple portrait of King Charles I of England, painted by Anthony van Dyck in 1636, and a gilt-framed miniature of Queen Victoria holding her namesake daughter in a Madonna and Child pose, according to The New York Times. The ceremony marking the return of the art was facilitated by the Monuments Men Foundation, which works to return artwork taken during World War II to its rightful owners.
In addition to these recovered artworks, the painting "Portrait of a Man" was returned to the daughter of a prominent German Jewish art historian.
The Nazis seized the piece from August Liebmann Mayer, who was later executed in Auchwitz. "Portrait of a Man" eventually made its way to France, where it had been stored in the basement of the Louvre since 1951. New York officials arranged for the painting's return to Mayer's daughter this week.
The Monument Men Foundation's Robert Edsel told the Times he hopes these returns spur others from those who might find they've come into possession of such treasures. "We just have to hope the heirs will come forward now that they're discovering these things as the veterans die off," he said.
-Noel Brinkerhoff, Steve Straehley
To Learn More:
Returning the Spoils of World War II, Taken by Americans (by Tom Mashberg, New York Times)
Nazi-Confiscated Painting Returned To Heir Of Jewish Art Historian (Reuters)