Armed Out-of-State Militia Slammed for Confronting Bat Researchers in Arizona
Saturday, September 06, 2014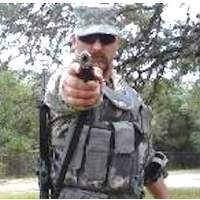 Chris Davis, militiaman
A self-appointed border militia from Colorado has been criticized by law enforcement in Arizona, where the group tried to detain scientists studying bats in the desert.
The incident occurred on August 23 near Sonoita when three researchers were returning to their campsite. The sudden glare of a spotlight startled the scientists, who were ordered by the armed militiamen to halt and sit down. The militiamen apparently assumed the scientists were smugglers or undocumented immigrants. After explaining who they were and realizing the militiamen were not Border Patrol agents, the researchers continued on their way.
"When the spotlight came on, we just waved at them," one of the researchers, who requested anonymity in part because he's afraid for his safety with the border militias, told Huffington Post. "We didn't know what they were doing. We started hiding behind rocks. We're not doing what they're saying, and they're acting kind of jumpy. … We had them yelling at us with spotlights, acting like they have some kind of authority."
The researchers later filed a report with the Santa Cruz County Sheriff's Department. Sheriff Tony Estrada expressed serious concern about the actions of the militiamen driving around the desert in ATVs with firearms and wearing camouflage. "These people . . . are completely out of their environment. They really don't know the area. They don't know the terrain. They have little knowledge of the dynamics of the border. So it can be a real problem," Estrada told Tucson News. "We really don't want them here.
"It can be a problem for them. It can be a problem for the people, just like in this particular case. Things could have gone terribly wrong," Estrada added. "They really don't accomplish anything. They really don't. With about 1,000 Border Patrol Agents here in Santa Cruz County, a little group of any militiamen are not going to make any difference at all. As a matter of fact, they're going to get in the way and they could get hurt. Or they could hurt somebody else."
-Noel Brinkerhoff
To Learn More:
Armed Border Militia Confronts Conservationists Counting Bats (by Barbara Grijalva, Tucson News)
Armed Border Militia Apprehends Bat-Counting Scientists (by Roque Planas, Huffington Post)