Animal Advocacy Group Mistakenly Launches Protest against "Greased Pig" Event Featuring Man in Pig Costume
Wednesday, February 17, 2016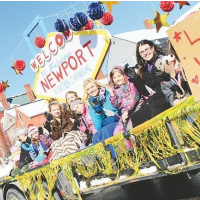 (photo: Newport Winter Carnival)
By Lynne Tuohy, Associated Press
NEWPORT, N.H. (AP) — An international animal advocacy group launched a protest against a New Hampshire winter carnival event billed as a "Greased Pig on Ice," but withdrew it after learning there's no pig in the act — just a man on skates in a pig costume with dollar bills tied to his tail.
Steve Smith, an organizer of the 100th Newport Winter Carnival, said People for the Ethical Treatment of Animals, or PETA, launched its alert last week despite his reassurances that no pigs would be harmed during the Saturday event. Smith said he received about 100 emails from concerned animal lovers.
PETA spokeswoman Daphna Nachminovitch said Smith did not clarify what the event would entail. She said the updated information is excellent news for the pigs.
Smith said Thursday that he assured a PETA investigator in a Feb. 5 email that no animals would be harmed during the event. The group never challenged or questioned him about it before writing a detailed email alert, he said. It talked about "subjecting these highly sensitive animals to such a chaotic and violent ordeal rife with screaming participants." It also mentioned capturing the pigs and stuffing them into barrels.
"How can they know what we're doing if they never even bothered to ask what we're doing?" Smith said. "If they just asked, 'What are your plans?' I would have told them."
Smith, also general manager of WCNL radio in Newport, said the carnival featured greased pig events in the 1930s and continued off and on until the 1980s.
The topic of adding a greased pig event to this year's carnival did come up during a planning meeting last fall when organizers were brainstorming about possible past events that could be incorporated into the centennial. However, Chamber of Commerce president and carnival doyen Ella Casey was adamant that no pigs be used.
Stephanie Bell, a director at PETA's cruelty investigations department, said the organization receives more complaints about pig wrestling events than it does greased pig competitions. She said PETA has been successful during the past five years in halting pig wrestling competitions scheduled in Indiana and Mississippi.
"We've had only one greased pig complaint this year and that turned out to be a hoax," she said, referring to Newport's event. She said organizers had "ample opportunity" to say that a pig was not being used.
The 10-day carnival draws to a close this weekend in Newport.
The "Greased Pig on Ice" event will feature Newport resident Glen Halleck in a pig costume, being chased by kids on ice skates on the town common. Smith said the plan is for the kids to be surprised that the pig is a costumed character.
"And it still will," Smith said. "I think the vast majority of the public doesn't have a clue."
In the carnival's brochure of scheduled activities, the full listing of the greased pig event offers one clue, however: "Put on your skates and see if you can catch him. Prizes. PETA Friendly."