American Academy of Pediatrics Suggests School Should Start Later
Wednesday, August 27, 2014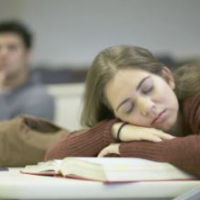 (photo: Jack Hollingsworth, Getty Images)
Let kids sleep in and start school later in the morning, urges the nation's leading group of pediatricians.
The American Academy of Pediatrics says in a new paper that middle schools and high schools should push back start times to 8:30 a.m. or later so students can get more rest.
"Insufficient sleep represents one of the most common, important, and potentially remediable health risks in children, particularly in the adolescent population, for whom chronic sleep loss has increasingly become the norm," researchers wrote in the journal Pediatrics.
Dr. Judith Owens, director of sleep medicine at Children's National Medical Center in Washington and leader of the study, said "research is clear that adolescents who get enough sleep have a reduced risk of being overweight or suffering depression, are less likely to be involved in automobile accidents, and have better grades, higher standardized test scores and an overall better quality of life."
"Around the beginning of adolescence, there is a natural delay in fall-asleep time and wake time," Owens said. "So that the average teenager can't fall asleep much before 11 o'clock. However, they also need between eight and a half and nine and a half hours of sleep per night so if you do the math, they are biologically programmed to fall asleep at 11 and wake at around 8 a.m. And that's a time when they're already in first-period class."
Some schools have already altered their start times. Middle schools in Long Beach, California, are moving to a 9 a.m. first bell. Hilton Head (South Carolina) High School moved its starting time from 7:45 to 8:35.
A 2006 survey by the U.S. National Sleep Foundation showed 59% of middle school students and 87% of high school students weren't getting 8.5 to 9.5 hours of sleep on school nights, as recommended by doctors, according to New Scientist.
Opponents of later school start times cite their effect on after-school employment, athletics and other extracurricular activities.
-Noel Brinkerhoff
To Learn More:
School Start Times for Adolescents (Pediatrics)
Sleepy Teens: High School Should Start Later in the Morning (by Mark Fischetti, Scientific American)
Open Schools Later So Teens Can Lie in, Say US Doctors (by Andy Coghlan, New Scientist)
Let Them Sleep in: Docs Want Later School Times for Teens (by Maggie Fox and Erika Edwards, NBC News)
Teenagers Do Better if School Starts Later (by Noel Brinkerhoff, AllGov)