Alabama Court Will Take Blood in Lieu of Cash for Offenders Who Can't Pay Fine
Wednesday, October 21, 2015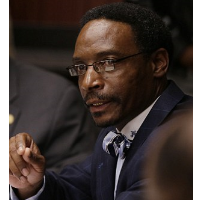 Judge Marvin Wiggins (AP photo)
Blood money took on a new meaning one day last month in an Alabama courtroom.
Circuit Judge Marvin Wiggins informed those in his courtroom on Sept. 17 that if they didn't have the money to pay their fines or court fees, they could serve time in jail or participate in a blood drive going on outside the courthouse.
"For your consideration, there's a blood drive outside," Wiggins said, according to a recording of the hearing obtained by The New York Times. "If you don't have any money, go out there and give blood and bring in a receipt indicating you gave blood." Wiggins also promised a $100 reduction in fines owed for those who gave blood.
For those who couldn't pay or refused to give blood, the judge concluded: "The sheriff has enough handcuffs."
Legal and health experts contacted by the Times said they could not think of another modern example of a court ordering offenders to give blood in lieu of payment, or face jail time. "What happened is wrong in about 3,000 ways," Arthur L. Caplan, a professor of medical ethics at NYU Langone Medical Center, part of New York University, told the newspaper. "You're basically sentencing someone to an invasive procedure that doesn't benefit them and isn't protecting the public health."
Wiggins refused to comment on the matter. "I cannot speak with you," he told the Times.
Hearing about Wiggins' actions, the Southern Poverty Law Center (SPLC) filed an ethics complaint against him, saying he had committed "a violation of bodily integrity."
Not only was the judge's order possibly illegal, it did the blood bank no good. LifeSouth, which was collecting the blood, said later that its employee who sent the bloodmobile to the courthouse acted improperly. The organization does not take blood from those compelled to give it. The defendants' blood was quarantined and almost all of it was eventually discarded.
In addition, an SPLC attorney said that none of those who donated blood had had the $100 deducted from their fines or fees.
-Noel Brinkerhoff, Steve Straehley
To Learn More:
For Offenders Who Can't Pay, It's a Pint of Blood or Jail Time (by Campbell Robertson, New York Times)
Alabama Town Allegedly Imprisons Poor People and Tells Them to Scrub Floors to Pay off Traffic Fines (by Aviva Shen, ThinkProgress)
Alabama Judge Shuts Down Private Debtors Prison (by Noel Brinkerhoff, AllGov)