Advanced Placement Exams Invalidated because Students Sat at Round Tables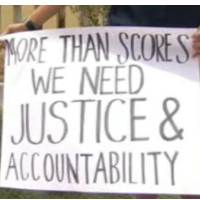 (photo: NBC Bay Area)
Hundreds of parents in Millbrae, California, are outraged over a decision to invalidate their children's scores on Advanced Placement (AP) tests because the students sat at round tables during the exam.
The Educational Testing Services (ETS) and the College Entrance Examination Board invalidated 634 AP exam scores due to seating arrangements over which students had no control.
The San Mateo Union High School District is now suing ETS and the College Board on behalf of 286 students at Mills High School whose exam scores were thrown out. ETS and College Board take the position that because students were facing each other, they had the opportunity to cheat, even if there was no evidence that they had actually done so.
"Defendants ETS and the College Board have chosen to cause harm to the students of Mills High School and jeopardize the academic achievement and future prospects of 286 students simply because of seating irregularities, and no evidence of any wrongdoing by any of the students," the district says in the lawsuit.
The district says ETS and the College Board adopted a "guilty until proven innocent" position and never gave the students a chance to prove their innocence, according to the complaint.
ETS and the College Board are accused of breach of contract and unfair business practices for their "draconian" decision.
The school district seeks a court order compelling the defendants to reinstate the exam scores and report the results to colleges and universities where Mills graduates have enrolled.
ETS has agreed to give the students free retests August 9-19, however many of them will refuse to take the tests because they have not have adequate time to prepare for them and they were confident that they had done well on the initial exams. In addition, some fear that taking the retests will hurt their court case.
-Noel Brinkerhoff, David Wallechinsky
To Learn More:
High School District Sues College Board & ETS (by Elizabeth Warmerdam, Courthouse News Service)
AP Exam Controversy: Lawsuit Filed on Behalf of Mills High School Students (by Aaron Kinney, San Jose Mercury News)
Parents prep lawsuit: Mills High School Community Frustrated over AP Score Invalidations (by Angela Swartz, San Mateo Daily Journal)