98-Year-Old Seeks Exoneration for Espionage Conviction 64 Years Ago
Saturday, August 16, 2014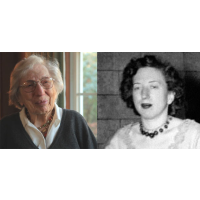 Miriam Moskowitz
One of the last survivors of the 1950s Communist witch-hunt is seeking to have her espionage conviction thrown out.
Miriam Moskowitz, 98, says she was caught up in a spy plot involving her former boss, Abraham Brothman, with whom she was having an affair, and Harry Gold. Gold, a chemist, helped funnel secrets about the Manhattan Project, which produced the first atomic bomb, to the Soviet Union. He later became a government informant, helping to provide evidence to convict Julius and Ethel Rosenberg, who were later executed, of espionage. In the process, Gold also implicated Moskowitz and Brothman.
Moskowitz insists she was never a party to the scheming, although Gold claimed in his testimony that she was involved. In fact, Gold originally exonerated Moskowitz in his interrogations by the FBI and before a grand jury. He implicated her after he was threatened with the death penalty, according to Dan McCue of Courthouse News Service. Neither Moskowitz nor Brothman testified in their own defense because they didn't want their affair to become known.
Nevertheless, she was convicted in 1950 and served two years in prison. Moskowitz also had to pay a $10,000 fine (equal to nearly $100,000 today), and, after being released, she struggled to put her life back together with such a black mark against her during the Cold War. Ironically the conviction of Brothman, who had been part of Gold's spy ring, was reversed on a technicality.
Now, Moskowitz wants to be exonerated, saying she never should have been convicted in the first place.
"I want to clear my good name," Moskowitz told the New York Daily News. The conviction "made my life very difficult, and sent it off in another direction entirely."
She has filed a petition with the federal court in Manhattan asking her conviction be vacated. According to her suit, "the government withheld critical and exculpatory evidence for nearly sixty years."
Moskowitz has written a book, Phantom Spies, Phantom Justice, about the case and her struggle to be exonerated. During her research, she came upon declassified grand jury records that bolstered her case.
-Noel Brinkerhoff, Steve Straehley
To Learn More:
Woman, 98, Wants Her McCarthy-Era Red Scare Criminal Conviction Tossed. (by Dareh Gregorian, New York Daily News)
Alleged 'Atomic Spy,' 98, Seeks Exoneration (by Dan McCue, Courthouse News Service)
Court Petition (U.S. District Court, Southern New York) (pdf)
How I Survived McCarthyism (by Miriam Moskowitz)
Testimony of Miriam Moskowitz, July 18, 1950 (pdf)