$40 Hospital Charge for New Parents' "Skin-to-Skin" Contact with Newborn Touches a Nerve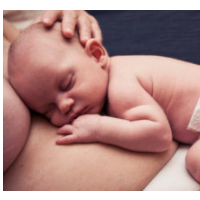 (photo: Dave Long, Getty Images)
By Jonah Engel Bromwich, New York Times
After holding his newborn son for the first time at a Utah hospital last month, a man found a strange charge on his bill: $39.35.
The man, Ryan Grassley, thought the charge, which appeared to be for holding his baby to his wife's chest, was a bit of a joke. (The charge was listed as "skin to skin after C-sec.") So he didn't take it too seriously when he posted a picture of the bill on Reddit.
But the story quickly gained steam: As of Wednesday, it had prompted over 11,600 comments from other users since being posted Monday evening and vaulted high up on the internet's "front page," (as Reddit calls itself) by more than 6,000 upvotes.
The Reddit post touched a nerve with people because it seemed to underscore a national frustration with unexpected hospital fees and arcane medical billing.
Grassley, 37, of Spanish Fork, Utah, wrote that his son was born Sept. 4. While his wife (whose name Grassley has not revealed) was delivering the baby, he was asked if they would like to hold their newborn after the procedure at Utah Valley Hospital in Provo.
Grassley held his son between his wife's neck and chest, while a nurse took pictures. For this, the description on the bill seemed to suggest, he was charged the fee. (It's about the price of a four-month subscription to Netflix.)
Janet Frank, a spokeswoman for Utah Valley Hospital, said in a statement, however, that the charge was not for skin-to-skin contact, a practice that hospitals use to increase bonding and breast-feeding, among other things.
Frank said that the charge was incurred because an extra nurse was needed in the operating room while Grassley and his wife held their newborn son and that the nurse was necessary to ensure that "both mom and baby remain safe."
"Only in the case of a C-section birth is an additional nurse brought into the operating room," the statement said.
Once Grassley saw that the Reddit thread was gaining momentum, he clarified that he and his wife knew the cost for the delivery would be steep. The total charges listed on the bill, including the C-section, came to $13,280.49 before payments and adjustments.
"We knew what we were signing up for and have some money saved up," he wrote, adding: "Everyone involved in the process was great, and we had a positive experience. We just got a chuckle out of seeing that on the bill."
Of course, not everyone is financially prepared to deal with exorbitant costs, which helps explain why the post prompted such attention. The Reddit thread that Grassley started was filled with horror stories about medical fees and the comparative ease of paying them in other countries.
In a Time magazine cover story in 2013, Steven Brill wrote about how U.S. hospitals can charge high fees for seemingly simple procedures. Though the article was filled with stories similar to Grassley's, Brill also noted that U.S. health care is not governed by a rate-setting system.
This means the federal government does not set rates for items like skin-to-skin contact or for summoning an additional nurse to the operating room after a C-section.
Prices for patients with private insurance or those paying out of pocket are generally set by the hospitals. Tom Hudachko, a spokesman for Utah's Department of Health, said the state does not "have any rate-setting authority on any plans outside of Medicaid."
Frank, the hospital spokeswoman, would not initially say whether the hospital itself had set the price for the nurse that Grassley was charged for.
But after repeated inquiries, Frank confirmed by email that the hospital did set the charge, which was determined as "a function of nursing time."
"We are actively evaluating how better to define the service as it appears on a patient's bill," she said.
To Learn More:
The High Cost of Childbirth…Only in America (by Noel Brinkerhoff, AllGov)