4-Year-Old Avoids Financial Responsibility for Blinding his Babysitter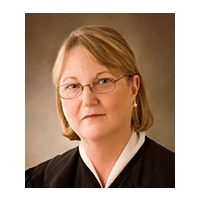 Justice Christine M. Durham
By Jeff D. Gorman, Courthouse News Service
(CN) - The Utah Supreme Court set a minimum-age limit for negligence, then found that the child who blinded his babysitter with a toy dolphin fell three months shy of it.
Described in the ruling only as C. Nielsen, a minor, the babysitter had already undergone a cornea transplant before her perilous experience in child care.
The girl lost all vision in that eye when the child she was watching, who was 4 years and 9 months old at the time, hit it with a toy rubber dolphin he threw.
Though Nielsen sued the boy's parents, Wade and Laura Bell, for negligent supervision, she later conceded that there was no evidence of negligence against the couple.
The parents wanted their son declared too young to be capable of negligence under Utah law, but a judge in Salt Lake said she could not find that as a matter of law.
The Utah Supreme Court reversed (pdf) 4-1 last week, and ordered that the boy win summary judgment as well.
"We hold that children under the age of five, as a matter of law, may not be held liable for negligence," Justice Christine M. Durham wrote for the majority.
Represented by Peter Christensen and Kathryn Smith, the Bells had pointed to an Illinois rule that considers children under the age of 7 incapable of negligence.
Durham noted this rule is followed in "about a dozen states," but Utah is not one of them.
"Indeed, when this court has been presented with claims that five and six year olds have been negligent, we have held that the child's capacity for negligence was a jury question," she wrote.
After a study of case law, Durham said that the cutoff in Utah for negligence liability should be age 5.
"Children under the age of five have a limited capacity to appreciate how their actions can cause harm to themselves or others and have an inadequate internal ability to control impulses that may lead to injuries," the 8-page ruling states.
The cutoff prompted a dissent by Associate Chief Justice Thomas Rex Lee, who said the court should have instead adopted "a framework that would deem all children under the age of three incapable of negligence and also presume (subject to rebuttal by expert evidence) that those who are aged three to seven lack that capacity."
"I disagree with the conclusion that 'the instances where it would be appropriate to hold a child under the age of five liable for negligence' are 'rare enough that the social costs of conducting an individualized inquiry' into a child defendant's mental capacity for negligence 'are not justified,'" Lee wrote, quoting the majority.
To Learn More:
Corey and Carol Nielsen v. Wade and Laura Bell (Supreme Court of Utah) (pdf)