4 Police Violence Lawsuits Filed in One Day in 4 Different States
Tuesday, September 15, 2015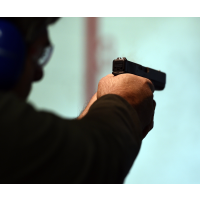 (photo: Jewel Samad, AFP via Getty Images)
Police in four states were sued Friday in separate cases charging officers inflicted unnecessary violence, including causing the death of a mentally ill man.
In Alabama, Marcus Underwood, who is black, sued the city of Bessemer, its police chief, Nathaniel Rutledge, and officers Daniel Cecil Partridge and Christopher Asarisi, all of whom are white. Underwood claims police needlessly shot him multiple times, striking him in the jaw, chest, arm, hand and shoulder in June 2014 while he was driving away from a friend's house. Underwood was also charged with attempted murder and attempting to flee the scene of a crime.
In California, another black man, Diantae Hogan, sued the city of Sacramento and police officers Joseph Maydan and Daniel Piaz after Hogan—a triplegic—was dragged from his cousin's car to a squad car by police. Hogan sustained a fractured wrist—on his only functioning limb—and spent a night in jail, but was not charged with a crime. "He claims the officers would not have assaulted and falsely arrested him if he were not black," according to Courthouse News Service.
In Hawaii, the family of Tyler Fujimoto sued Honolulu police after they Tasered the schizophrenic man, and after he had dropped a stick he was holding and was on one knee, shot him nine times, killing him in December 2013.
In Colorado, Anthony Martinez sued the U.S. government and three Bureau of Indian Affairs police officers, Patrick Backer, Cheryl Herrera and Matthew Mitchell, after they shot him in the back after coming to Martinez's home at 3 a.m. The police filed charges against Martinez, claiming he was about to attack them, but he was cleared.
-Noel Brinkerhoff
To Learn More:
Claims of Police Violence Pile Up in Courts Around the Nation (by Robert Kahn, Courthouse News Service)