4 Dumb School Responses to Ebola
Monday, November 03, 2014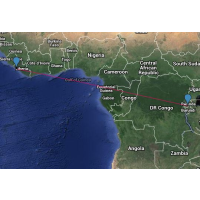 It's a long way from Liberia to Rwanda (graphic: Google Maps)
Schools are generally thought of as places of learning and reason. However, the Ebola scare has shown how quickly irrationality and panic can overwhelm facts when it comes to parents' concern for their children and administration responses in at least four schools in the United States.
According to the World Health Organization, Ebola spreads through "human-to-human transmission, with infection resulting from direct contact (through broken skin or mucous membranes) with the blood, secretions, organs or other bodily fluids of infected people, and indirect contact with environments contaminated with such fluids." Facts, though, are no match for panic whipped up by cable news combined with a lack of geography acumen.
Howard Yocum Elementary School in Maple Shade, New Jersey, probably won't be winning the next geography bee. When it was learned that two students from Rwanda, almost 3,000 miles from the West African nexus of the Ebola outbreak, would be enrolling at Yocum, staffers and parents alike hit the panic button. As a result, the two students were put into "voluntary" quarantine, even though Rwanda is as close to an Ebola outbreak as Yocum school is to northern Greenland. In fact, Rwanda is so concerned about Ebola not taking hold in its country that it screens visitors from the United States, which has had active Ebola cases.
That leads us to the next case of school overreaction, which happened at Strong Elementary School in Maine. One of its teachers attended a conference in Dallas, which was the site of a U.S. Ebola case. Of course, the conference was about 10 miles from the hospital where the Ebola victim was treated and the teacher had no contact with anyone who'd been near the victim. That didn't matter to the staff at Strong, who sent home the teacher for 21 days claiming that they hadn't been informed that the teacher would be going to Dallas.
The stupid train's next stop is in Hazlehurst, Mississippi, where a middle school principal was put on leave because of rumors he'd traveled to Nigeria, which is in West Africa but has been declared free of Ebola. However, the principal had actually been in Zambia, even farther from the Ebola outbreak than Rwanda, for his brother's funeral. Nevertheless, the principal took a "voluntary" leave so as not to be a distraction.
Finally, a school district in Connecticut was forced to allow a girl who'd traveled to Nigeria back into school after her father sued the Milford School District. Milford's public health director was said in the complaint to have told the father that the girl "should continue to remain at home until the 'climate' changes and the rumors at her school stop." There was no word whether Milford's teachers use rumors rather than the scientific method in their lesson plans.
-Steve Straehley
To Learn More
6 of America's Most Panicky, Misinformed Overreactions to the Ebola Virus (by Steven Rosenfeld, AlterNet)
Jersey School District Apologizes for Elementary School Ebola Panic (by Aura Bogado, ColorLines)
Teacher in Strong On Leave Over Ebola Concerns (by Matt Byrne, Portland Press Herald)
Kids Pulled Out Of Class Over Concerns About Principal's Trip To Zambia (by Scott Simmons, WAPT)
Ebola Scare Hits Connecticut 3rd Graders (by Christine Stuart, Courthouse News Service)
Connecticut School Lifts Ban On Girl Barred Over Ebola Fears (by Bill Rigby, Reuters)