2 Chimpanzees Gain Right to Challenge their Imprisonment at University in New York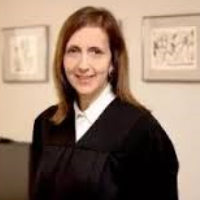 Judge Barbara Jaffe
Two chimpanzees held in a New York university laboratory have won the right to their day in court. The Nonhuman Rights Project (NhRP) will be able to argue that chimps Hercules and Leo should be freed from Stony Brook University, where they are used for research.
NhRP hailed the decision by Justice Barbara Jaffe of New York State Supreme Court, the state's trial-level court, who accepted the group's petition that included the argument that primates deserve legal standing similar to those of humans. "This is a big step forward to getting what we are ultimately seeking: the right to bodily liberty for chimpanzees and other cognitively complex animals," Natalie Prosin, NhRP's executive director, told Science. "We got our foot in the door. And no matter what happens, that door can never be completely shut again."
The next step is a hearing scheduled for May 27, at which Stony Brook University will have to show cause for holding the two chimps.
The New York Times reported that it is too early to read too much into Jaffe's order.
"Whether it is a great day for apes, however, remains to be seen. Justice Jaffe's decision, issued on Monday, was largely administrative and gave little if any indication of her feelings on the merits of the case. Animal rights supporters initially hailed it as a major breakthrough, citing the inclusion in Justice Jaffe's order of the words 'writ of habeas corpus,' a legal means to address the unlawful detention of prisoners," the Times' Jesse McKinley reported. Jaffe later amended her order by taking out the language about a writ, clarifying that her decision was merely that a hearing had been granted in the case.
Richard Cupp, a law professor at Pepperdine University who opposes personhood for animals, doubted the case would result in what animal rights advocates want. "It would be quite surprising if the judge intended to make a momentous substantive finding that chimpanzees are legal persons if the judge has not yet heard the other side's arguments," Cupp told Science.
NhRP's goal is to have Leo and Hercules placed in a chimp sanctuary in South Florida where there are 250 other chimpanzees living in an environment closer to that of their natural habitat.
-Noel Brinkerhoff
To Learn More:
Judge Recognizes Two Chimpanzees as Legal Persons, Grants them Writ of Habeas Corpus (Nonhuman Rights Project)
Judge's Ruling Grants Legal Right to Research Chimps (by David Grimm, Science)
Judge Orders Stony Brook University to Defend Its Custody of 2 Chimps (by Jesse McKinley, New York Times)
Nonhuman Rights Project v. Samuel Stanley (New York Supreme Court) (pdf)
Group Sues to Provide Legal Rights for Non-Humans (by Noel Brinkerhoff, AllGov)