14-Year-Old Charged with Felony Hacking for Entering Password to Insert Prank Photo on Teacher's Computer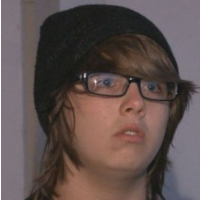 Domanik Green (photo: WTSP-Channel 10)
In a classic case of overreaction, a Florida teen was arrested after hacking into his school district's computer and changing his teacher's screen background as a prank.
The Pasco County Sheriff's Office charged Domanik Green, an eighth-grader at Paul R. Smith Middle School in the town of Holiday, with an offense against a computer system and unauthorized access, a felony, after Green accessed the system on March 31 with a password he'd seen the teacher type in. Green then substituted the teacher's screen background with a picture of two men kissing.
According to Pasco County Sheriff Chris Nocco, that was enough to warrant a felony charge. "Even though some might say this is just a teenage prank, who knows what this teenager might have done," Nocco said.
Yes, who knows? Well, it turns out that even though there is information about Florida's standardized tests in the system, authorities could find no evidence it had been accessed.
Green previously was suspended for accessing the computer system. He has also been suspended from school for 10 days for this offense and has been released from a detention facility to the custody of his mother. If he's convicted of the felony, Green faces loss of his civil rights and a lifetime of difficulty getting a job for a juvenile prank.
"If they would have notified me it was illegal, I wouldn't have done it in the first place, Green told WTSP News in St. Petersburg. "But all they said was, 'You shouldn't be doing that.'"
The school district is in the process of changing its computer passwords.
-Steve Straehley
To Learn More:
Middle School Student Charged With Cybercrime in Holiday (by Josh Solomon, Tampa Bay Times)
Is This Justice? Charging an Eighth Grader with a Felony for "Hacking" (by Amul Kalia, Electronic Frontier Foundation)