11 No-Fly Zones in the United States
Thursday, November 20, 2014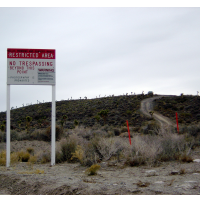 The border of Area 51 in Nevada (photo: Wikipedia)
For every sensible decision the government makes, there are others that cause plenty of head scratching.
Look at the number—and selections—of no-fly zones in place around the United States. Eleven of them discussed at the website Mental Floss represent a mix of locations, some of which make complete sense.
Planes flying over Washington, D.C., are limited to certain commercial and other pre-approved flights up to an altitude of 18,000 feet. These restrictions came after the 9/11 attacks in the run-up to the Iraq war and are aimed at protecting federal government installations.
The same logic can be applied to the Pantex nuclear facility outside Amarillo, Texas. The Cold War-era facility handles all kinds of nuclear warheads, so it requires special protection from above. Likewise, the Naval Submarine Base in Kings Bay, Georgia that serves as the home port of the U.S. Atlantic fleet of Trident nuclear subs has a no-fly zone above it.
Other government installations covered by overflight restrictions are the Kennedy Space Center and the famed Area 51 in Nevada, which has long been a classified government facility for, well, no one truly knows what.
The sky over Camp David is also off-limits to aircraft. Again, makes sense considering it is a popular getaway and meeting place for the president and special guests, including foreign leaders. Another presidential-related area that has been declared off limits to air traffic below 1,000 feet is the Bush family compound near Kennebunkport, Maine.
But then there's restricted airspace over Disneyland and Disney World. The restrictions below 3,000 feet were slipped into a 2003 spending bill. Disney has fought off previous attempts to remove them because it doesn't want banner planes flying over its parks.
Nor may planes fly over George Washington's home in Mt. Vernon, Virginia.
The airspace over the Boundary Waters Canoe Area Wilderness in Northern Minnesota has been plane-free since 1948, when President Harry Truman decreed it so.
-Noel Brinkerhoff
To Learn More:
11 Places Planes Can't Fly Over in the U.S. (by Chris Nesi, Mental Floss)
SUA Website (Federal Aviation Administration)
FAA Imposed No-Fly Zone in Ferguson to Keep Media Away (by Noel Brinkerhoff, AllGov)