Who's Responsible if a Military Robot Kills Civilians?
Wednesday, August 05, 2009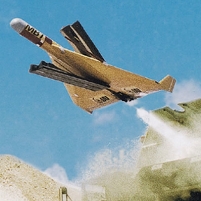 Harpy unmanned aircraft
Self-thinking military robots, not unlike the killing machines featured in the Terminator movies, are by no means the stuff of science fiction, warns Professor Noel Sharkey, an expert in artificial intelligence (AI) and robotics at the University of Sheffield. "The next thing that's coming, and this is what really scares me, are armed autonomous robots," he recently told the media in London. "The robot will do the killing itself."
The problem with such a development, Sharkey says, is that robots cannot handle two basic tenets of warfare: Discriminating friend from foe; and determining when enough-is-enough in attacking the enemy. Yet, political and military officials are pushing ahead with advances in unmanned weapons systems.
-Noel Brinkerhoff