When George W. Bush Gave a Primetime Immigration Speech, Networks Covered it Live; Obama…Forget It
Saturday, November 22, 2014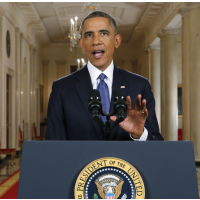 (photo Jim Bourg, AP)
Some supporters of President Barack Obama are disappointed that the three major television news networks chose not to air his speech on immigration reform, pointing to previous addresses by George W. Bush that the networks chose to carry.
"In 2006, [President George W.] Bush gave a 17-minute speech that was televised by all three networks that was about deploying 6,000 National Guard troops to the border. Obama is making a 10-minute speech that will have a vastly greater impact on the issue. And none of the networks are doing it. We can't believe they were aggrieved that we announced this on Facebook," a senior administration official told Politico.
Before that, Bush gave a national address on TV early in his administration to declare his support for limited stem cell research. All three networks covered that speech live as well.
But this week the only broadcast networks that carried Obama's immigration talk live throughout the country were Spanish language Univision and Telemundo. CBS did show the speech live on the West Coast, where it came on before prime time. Some other stations around the country also chose to pick up the feed.
One report said the networks perceived that the speech's content would be "political," which they took as an excuse to pass on the address. "There was agreement among the broadcast networks that this was overtly political. The White House has tried to make a comparison to a time that all the networks carried President Bush in prime time, also related to immigration [2006]. But that was a bipartisan announcement, and this is an overtly political move by the White House," Mike Allen wrote at Politico.
The decision not to carry the speech came despite Republican warnings that what Obama was going to do could provoke violent protests and possible impeachment hearings.
-Noel Brinkerhoff, Steve Straehley
To Learn More:
Network News' Shameful Decision to Snub Obama's Immigration Address (by Eric Boehlert, Media Matters for America)
White House Hits TV Networks for Skipping Immigration Address (by Hadas Gold, Politico)