Was Hillary Clinton, While Secretary of State, Running a Secret Spy Network?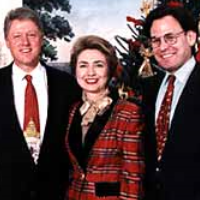 Sidney Blumenthal with Bill and Hillary Clinton at the White House (photo: courteesy of Maureen Dowd)
A trove of emails released two years ago show that then-Secretary of State Hillary Clinton had access to intelligence from a private spy network run by an old confidant.
In 2012, the email account of Sidney Blumenthal, a long-time associate of Bill and Hillary Clinton, was accessed by Romanian hacker Marcel-Lehel Lazar, who went by the name Guccifer. Blumenthal's emails, which were posted on the internet, showed he'd had correspondence with Hillary Clinton via her private email account. They revealed that Blumenthal was providing back-channel intelligence to Clinton about Libya's civil war in the run-up to the Benghazi disaster, according to a report from ProPublica and Gawker.
One of the emails pointed out the deteriorating security situation right before the Benghazi consulate was stormed, citing "an extremely sensitive source" who pointed out the numerous bombings and kidnapping of aid workers and diplomats by those thought to be loyal to the late Libyan Prime Minister Muammar Gaddafi, ProPublica reported. Despite the information gathered by Clinton's network, she said after the Benghazi attacks of September 2012 that U.S. intelligence officials had had no advance warning of the threat.
The reports Blumenthal sent to Clinton appear to have been compiled by Tyler Drumheller, a former chief of the Central Intelligence Agency's (CIA) clandestine service in Europe. Drumheller left the CIA in 2005 and started his own security business.
In addition to Libya, the memos deal with subjects ranging from German Chancellor Angela Merkel's discussions with her finance minister to the make-up of the South Korean cabinet.
But much of the attention was focused on Libya. There's even one email exchange suggesting that four people be sent to neighboring Tunisia to aid the Libyan opposition. "Sid, you are doing great work on this," Drumheller wrote to Blumenthal. "It is going to be around $60,000, coverting r/t business class airfare to Tunis, travel in country to the border and back, and other expenses for 7–10 days for 4 guys," one email read.
A Clinton spokesman said all the Blumenthal emails in Clinton's private email account have been turned over as part of the 30,000 pages of communications relayed to the State Department.
When Clinton was named secretary of state, she wanted Blumenthal to come work for her. But then White House Chief of Staff Rahm Emanuel is said to have vetoed that plan because of Blumenthal's attacks on Obama during the 2008 presidential primary campaign.
-Steve Straehley
To Learn More:
Private Emails Reveal Ex-Clinton Aide's Secret Spy Network (by Jeff Gerth, ProPublica, and Sam Biddle, Gawker)
Hacked Emails Show Hillary Clinton Was Receiving Advice at a Private Email Account From Banned, Obama-Hating Former Staffer (by John Cook, Gawker)
Blumenthal Emails (Cryptome) (pdf)