Visa Waiver Program Pits National Security Concerns against Tourism Dollars
Thursday, January 15, 2015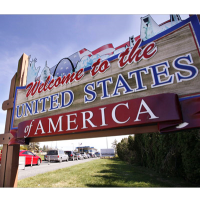 (AP photo)
The Visa Waiver Program allows millions to travel between the United States and 38 countries without a visa, making it easy for tourists to come here and spend money. But the recent terror attacks in France have some Washington lawmakers rethinking the program, fearing it leaves the U.S. vulnerable to acts of terrorism.
The program allows nearly 20 million foreign citizens into the U.S. each year. This group comprises about 40% of all overseas visitors, according to the Congressional Research Service.
But after al-Qaeda militants terrorized France, one of the countries in the program, last week some wanted to reexamine the program.
"The visa waiver program is the Achilles' heel of America," Senator Dianne Feinstein of California, the senior Democrat on the Senate Intelligence Committee, told CNN. "They can come back from training, they go through a visa waiver country, and they come into this country. Now, there are no-fly lists. There are terrorist lists. But they're in the tens of thousands and even millions, so it's difficult to ferret someone out."
She added that the government needs "to take a look at the visa waiver program again, and see what we can do to prevent this kind of thing from happening, because I believe it will happen, if it hasn't already."
Some former administration officials say the worries are unfounded, noting that foreign governments working with the U.S. use their own intelligence agencies to screen travelers before they depart for America.
"Many concerns about the visa waiver program are outdated and [critics] don't fully understand what the U.S. does get as a result of having visa waiver agreements with 38 countries," Jayson Ahern, a former acting commissioner of U.S. Customs and Border Protection and principal with the Chertoff Group, told CBS News. "[These 38 countries] all also engage in information sharing with the U.S. ...you begin with a pretty strong starting point."
Travelers coming to the United States must still submit information before leaving that allows them to be flagged if they pose a threat.
-Noel Brinkerhoff
To Learn More:
French Terror Attacks Bring New Scrutiny to Visa Waiver Program in U.S. (by Rebecca Kaplan, CBS News)
Feinstein: Visa Program is 'Achilles Heel' (by Eric Bradner, CNN)
Frequently Asked Questions about the Visa Waiver Program (VWP) and the Electronic System for Travel Authorization (Customs and Border Protection)