U.S. Ambassador to the Holy See: Who Is Callista Gingrich?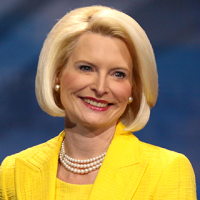 Callista Gingrich (photo: Gage Skidmore)
Callista Gingrich, the third wife of former House Speaker Newt Gingrich, on May 19, 2017, was nominated by President Donald Trump to represent the United States at the Vatican.
Gingrich was born Callista Louise Bisek on March 4, 1966, to Alphonse (Allie) and Bernita Bisek in Whitehall, Wisconsin. Her mother was a secretary and her father worked in a packing plant and then in a shop that made car switches. Called "Cally Lou" by her parents, Gingrich graduated from Whitehall Memorial High School in 1984 and went to Luther College in Decorah, Iowa, to study music. She graduated with a B.A. in 1988.
Gingrich considered getting an advanced degree, but instead went to Washington to work as an intern in the office of her local congressman, Republican Steve Gunderson. She remained in Gunderson's office until 1995, when she became a clerk for the House Agriculture Committee.
In November 1993, Gingrich began an affair with the man who would become her husband. Newt Gingrich remained married to his second wife, Marianne, until 1999. Callista and Newt were married August 4, 2000. Callista is younger than Newt's eldest daughter and the same age as his second daughter.
Callista Gingrich continued to work for the Agriculture Committee until 2007, when she became president of Gingrich Productions, the couple's multimedia production company. Gingrich Productions has produced films, featuring the Gingriches, including: A City Upon a Hill, America at Risk, Nine Days that Changed the World, Ronald Reagan: Rendezvous with Destiny, Rediscovering God in America, Rediscovering God in America II: Our Heritage, and We Have the Power. Callista Gingrich also has written a series of children's books with patriotic themes featuring the character Ellis the Elephant.
Music continues to be one of Gingrich's passions. She has played French horn in the City of Fairfax (Virginia) band and has been a paid member of the choir at Washington's Basilica of the National Shrine of the Immaculate Conception for 20 years.
Gingrich's taste for the finer things came to light as her husband began seeking the Republican presidential nomination in the 2012 cycle. It was found that Newt had maintained a charge account at Tiffany's with a balance in the range of $250,001 to $500,000.
Gingrich is a lifelong Catholic and assisted in her husband's conversion to the faith in March 2009.
-Steve Straehley
To Learn More:
Callista Gingrich Nominated as Ambassador to the Vatican (by Tom Gjelten, NPR)
The Good Wife (by Ariel Levy, New Yorker)
Callista Gingrich Brings Attention to Basilica of the National Shrine Choir (by Katherine Boyle, Washington Post)