U.S. Ambassador to Singapore: Who Is K.T. McFarland?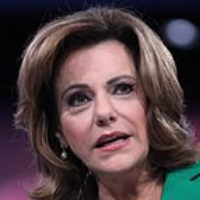 K.T. McFarland
Kathleen Troia "K.T." McFarland, who parlayed a job in the White House typing pool into a reputation as an expert on national security issues, was nominated May 19, 2017 to be the U.S. ambassador to Singapore.
McFarland was born July 22, 1951, in Madison, Wisconsin, one of four children of A.J., a dispatcher for the Chicago and Northwestern Railroad, and Edith Troia. McFarland graduated from Madison West High School in 1969 and went on to George Washington University in Washington, D.C. While there, she took a job as a typist in the White House and before long was typing President Richard Nixon's 's daily briefing. After graduating from George Washington with a degree in Chinese studies in 1973, McFarland continued working in the White House, becoming a research assistant in the Gerald Ford administration.
When Jimmy Carter was elected in 1976, McFarland left for Oxford University, where she earned an M.A. in politics, philosophy and economics in 1978. She returned to the United States to begin work on a Ph.D. at Massachusetts Institute of Technology, but never completed her degree. Instead, she joined the staff of the Senate Armed Services Committee.
In 1982, McFarland moved over to the Department of Defense as speechwriter for Defense Secretary Caspar Weinberger. She later claimed to have had a hand in writing President Ronald Reagan's Star Wars speech about the need for a missile defense system, but that was proven to be false. She also falsely claimed to be the highest-ranking woman in Reagan's Pentagon.
McFarland was named a Pentagon spokesperson in 1983, remaining there through most of 1984.
McFarland married investment banker Alan McFarland on January 10, 1985. She spent the next two decades raising McFarland's two children and three the couple had together.
In 2006, she initially considered running for Congress, but judged her chance of winning a seat slight, so turned her eyes on the race to see who would oppose Hillary Clinton in the U.S. Senate race in New York that year. McFarland's opponent in the GOP primary was former Yonkers mayor John Spencer. Several derogatory facts about McFarland came out during the campaign. Two concerned her voting history: first, she had been registered to vote at two addresses—her Manhattan home and at her Southampton summer residence, and had voted variously at one or the other (but not at both during the same election) over the 1990s and 2000s. Second, she had a spotty voting history of any kind, often not voting at all. The other fact that came out during the election was that McFarland had outed her brother Michael as gay to their parents in the 1990s. Michael Troia died of AIDS-related causes in 1995. Also during the campaign, one of McFarland's daughters was arrested for shoplifting. McFarland decisively lost the primary to Spencer, who was trounced by Clinton in the general election that year.
McFarland began work as a Fox News Channel commentator on national security issues in September 2009. She pushed for a U.S. war with Iran and praised Russian dictator Vladimir Putin. She falsely claimed that her civilian rank was the equivalent of a three-star general. On air in May 2012, she said that waterboarding is not torture and that torture is worth doing if it works. In September 2013, she wrote a column arguing that Putin deserved the Nobel Peace Prize.
She also served as a board member of the Jamestown Foundation, which studies China, Eurasia, Russia and global terrorism.
McFarland worked at Fox until November 2016, when she was chosen by Donald Trump's national security adviser, Michael Flynn, to be his deputy. At this point, McFarland hadn't worked in government in more than 30 years. McFarland raised eyebrows during National Security Council meetings by such things as bragging about the Ivanka Trump-branded shoes she was wearing. Odd as this may seem, it does fit in with her statement three days after Trump was elected president that she would be a "foot soldier for the Trump revolution."
After Flynn was ousted by Trump, allegedly for lying to Vice President Mike Pence, it was clear that McFarland's days were numbered and she began being talked up for the Singapore post. However, she continued to perform some of her duties, even meeting with Australian Prime Minister Malcolm Turnball in early May.
-Steve Straehley
To Learn More:
K.T. McFarland Financial Disclosure Report (U.S. Office of Government Ethics)
Trump's Deputy National Security Adviser Was Once Accused of Violating Voter Registration Laws (by Philip Bump, Washington Post)
Deputy National Security Adviser K.T. McFarland to Leave National Security Council Post (by Abby Phillip, Washington Post)
Grand Old Class War (by Phoebe Eaton, New York)
Brother of GOP Candidate Calls Her 'Evil' (by Beth Fouhy, Associated Press)
Hill Foe 'KT' Outed Her Dying Brother (by Cathy Burke, New York Post)