U.S. Ambassador to Rwanda: Who Is Peter Vrooman?
Wednesday, November 15, 2017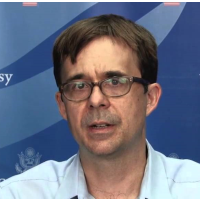 Peter Vrooman
The next ambassador to the African nation of Rwanda will be career diplomat Peter Vrooman, who has extensive diplomatic experience in the region. Nominated October 26, 2017, Vrooman most recently served at the U.S. Embassy in Addis Ababa, Ethiopia, as deputy chief of mission from July 2014 to August 2016 and as chargé d'affaires from September 2016 to July 2017. If confirmed by the Senate, Vrooman would succeed Erica J. Barks-Ruggles, who served in Kigali starting in December 2014.
Peter Hendrick Vrooman was born March 1, 1966, near Canton, New York, to David Henry Vrooman, Jr., an economics professor at nearby St. Lawrence University, and Sally (Eaton) Vrooman. Peter initially attended Hugh C. Williams High School in Canton, where at age 14 he won a prize for an essay on local history, "Lumbering on the Grass," which was published in an area historical journal. Vrooman graduated Phillips Academy in Andover, Massachusetts, in 1984 and went on to earn a B.A. in Social Studies at Harvard College in 1988. He served a summer 1986 internship at the New York State Office for the Aging. Vrooman earned his next degree in France, a Certificat d'Etudes Politiques—a one-year program nearly equivalent to a Master's degree—at Sciences Po (Institut d'études politiques de Paris) in 1987.
Vrooman worked from 1989 to 1990 as special assistant to Richard F. Pedersen, then the president of the American University in Cairo and a former U.S. ambassador to Hungary, before joining the State Department as a foreign service officer in 1991.
Vrooman served early career assignments as watch officer in the State Department's Operations Center (circa 1991 to 1992); in Djibouti City, Djibouti (circa 1992 to 1993); at the US Liaison Office in Mogadishu, Somalia (circa 1994); as desk officer for Algeria (circa 1995 to 1997) in the Bureau of Near Eastern Affairs; and in Beirut, Lebanon (circa 1998 to 2000).
Vrooman served as deputy political counselor at the U.S. mission to the United Nations from 2000 to 2005, and was an advisor on the Middle East. He then served three straight postings concerned with that region: as deputy political counselor at the embassy in Tel Aviv, Israel (circa 2006 to 2008); at the embassy in Baghdad, Iraq (circa 2008 to 2009); and as director for Iraq on the staff of the National Security Council (circa 2009 to 2011).
Vrooman also completed his education, earning an M.S. in National Security and Resource Strategy at the Eisenhower School for National Security & Resource Strategy at the National Defense University in 2011.
Vrooman worked as spokesperson at the embassy in New Delhi, India, from August 2011 to May 2014, after which he began his stint in Ethiopia.
Vrooman speaks Arabic and French. He is married to Johnette Iris Stubbs, a photographer with whom he has two children, Zarah and Hendrick.
-Matt Bewig
To Learn More:
Ethiopia, a Long-Term US Partner in Peace and Security (by Yonas Abiye, Ethiopian Reporter)
Lumbering on the Grass (by Peter H. Vrooman, St. Lawrence County Historical Association Quarterly)