U.S. Ambassador to India: Who Is Kenneth Juster?
Friday, September 22, 2017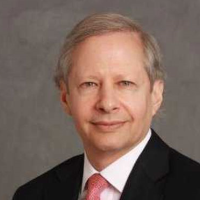 Kenneth Juster
Kenneth Ian Juster, who served on Donald Trump's economic team, but fell out of favor early in the administration, was nominated September 1, 2017, to be ambassador to India, after having been rumored for several months to be the appointee. If he's confirmed, it will be his first such assignment.
Juster was born November 24, 1952, in New York and grew up in Scarsdale, New York, where his mother taught at the local high school. Juster attended Greenacres Elementary School there, and in sixth grade was able to interview Mick Jagger for the school paper. Juster attended Scarsdale High School, from which he graduated in 1972. He went on to Harvard, earning a B.A. in 1976 and then his law degree and a master's in public policy in 1980.
Juster took a job with the influential law firm Arnold & Porter in 1981. Among his clients was deposed Panamanian president Eric Delvalle, who went into exile after the rise of Manuel Noriega. Juster joined the George H.W. Bush administration in 1989, first as deputy to then-Deputy Secretary of State Lawrence Eagleburger and then in 1992 as acting counselor for the State Department. He returned to Arnold & Porter after Bush lost his bid for re-election.
When George W. Bush moved into the White House in 2001, Juster was back in government, this time as under secretary of commerce for the Bureau of Industry and Security. He served as U.S. chair of the U.S.-India High Technology Cooperation Group, and was instrumental in the Next Steps in Strategic Partnership initiative between the United States and India, which led to a civil nuclear agreement between the nations. This experience, and subsequent dealings with India, make Juster perhaps more qualified for his post than most non-State Department ambassadorial appointees.
Juster left government service in 2005 to become executive vice president for law, policy and corporate strategy at Salesforce.com, a San Francisco-based software company. In 2010, Juster moved to equity firm Warburg Pincus as a partner and managing director. This relationship may prove troublesome for Juster in his new job; Warburg Pincus began increasing its Indian holdings shortly after Juster's name was floated for the post. Juster will have to step carefully to avoid conflicts of interest as ambassador. While at Warburg Pincus, Juster also served as chairman of Freedom House, a non-governmental organization that conducts research and advocacy on democracy, political freedom, and human rights. Beginning in 2010, he also served as vice chairman of the Asia Foundation and was a board member of the U.S.-India Business Council. Juster also was part of former Florida Governor Jeb Bush's foreign policy team as Bush ran for the Republican nomination for president.
Juster joined the Trump administration as deputy assistant to the president for international economic affairs and deputy director of the National Economic Council. He fell out of favor in the spring of 2017 in the internecine battles in the executive branch.
Having grown up in New York, Juster is a Yankees fan and was able to meet players such as Mariano Rivera because of his early work with Panamanian interests.
-Steve Straehley
To Learn More:
Meet Kenneth Juster, the "Inspired" Choice for Ambassador to India (by Seema Sirohi, Economic Times)
Top White House Aide Likely the Next Ambassador to India (by Josh Rogin, Washington Post)
India Ambassador Pick Has Questionable Private Equity Ties (by Lachlan Markay, Daily Beast)