U.S. Ambassador to China: Who Is Terry Branstad?
Wednesday, January 25, 2017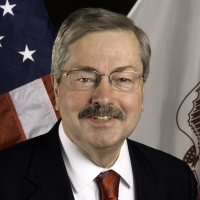 Terry Branstad
After Donald Trump repeatedly bashed China during his presidential campaign, it made sense that he choose someone as ambassador who might be able to smooth things over. Trump may have found his man in Iowa Governor Terry Branstad (R), whom Trump nominated for the post on December 7, 2016, and whom the U.S. Senate confirmed in an 82-13 vote on May 22, 2017.
Branstad was born in Leland, Iowa, on November 17, 1946, to Edward and Rita Branstad, who were farmers. Branstad grew up on the farm, graduated from Forest City High School in 1965 and went off to the University of Iowa, where he earned a B.A. in political science and sociology in 1969.
Branstad then took a detour into the Army, where he served as a military policeman at Fort Bragg, North Carolina. Years later, Branstad would gain credibility with conservatives for a story that he arrested actress Jane Fonda as she protested at the base. The truth of the story, according to Branstad, was that he had recommended that she not be allowed on base to protest. Fonda came on the base anyway and was arrested by others in Branstad's unit.
Branstad got out of the Army in 1971 and went to Drake Law School, earning his J.D. in 1974. Even before then, however, Branstad entered politics, taking a seat in the Iowa Assembly in 1973. He served three terms in the Assembly before becoming lieutenant governor in 1979. Four years later, at age 37, he became the youngest governor in Iowa's history.
It was during Branstad's first stint as governor, in 1985, that he met Xi Jinping, who is now president of China. Xi traveled to Iowa with a delegation from his home province and stayed in the small town of Muscatine. Xi returned to the town on a visit in 2012 when he was China's vice-president. Branstad served as governor until 1999.
After he left office, Branstad practiced law with the firm of Kaufman, Patee, Branstad & Miller; was a financial adviser for Robert W. Baird and Company; and had his own business, Branstad and Associates. In 2003, Branstad was named president of the Des Moines University School of Medicine. He remained there until deciding to run for re-election as Iowa governor. He easily won, and resumed his spot in the statehouse in 2011. Branstad was successful in selling Iowa agricultural products, particularly pork and soybeans, to China.
Branstad was an early supporter of Trump's presidential campaign. He was mentioned shortly after the election as a likely candidate for the Beijing post, even drawing supportive comments from the Chinese. "First of all, I would like to say that Mr. Branstad is an old friend of the Chinese people and we welcome him to play a greater role in promoting Sino-U.S. relations," Chinese government spokesman Lu Kang said, according to The Washington Post.
Branstad will leave Des Moines as the longest-serving governor in U.S. history at 22 years, not including the gap in service. He'll also leave office having never lost an election.
Branstad and his wife, Christine, have three adult children: Eric, who ran Trump's Iowa campaign; Allison; and Marcus.
-Steve Straehley
To Learn More:
Terry Branstad, Iowa Governor, Is Trump's Pick as China Ambassador (by Binyamin Appelbaum, New York Times)
10 Things to Know About Iowa Gov. Terry Branstad, Trump's Pick for Ambassador to China (by Amber Phillips, Washington Post)
An "Old Friend" of Xi Jinping Will Be America's Next Ambassador to China (The Economist)