U.S. Ambassador to Australia: Who Is Harry B. Harris Jr.?
Thursday, February 15, 2018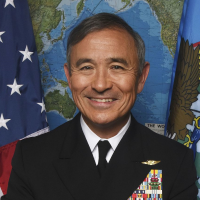 Harry B. Harris Jr.
President Donald Trump's love affair with general officers shows no sign of abating. On February 9, 2018, he nominated Admiral Harry Binkley Harris Jr., the commander of the U.S. Pacific Command and the first Asian-American to reach the rank of admiral in the U.S. Navy, to be ambassador to Australia.
Harris' father, a World War II veteran, was a machinist's mate chief petty officer in the Navy who married a Japanese woman when he was stationed in Japan after the war. Harry Jr. was born August 4, 1956, in Yokosuka, Japan. His father retired from the Navy in 1958 and the family moved to a farm in Tennessee, and then to Pensacola, Florida. Harris graduated from Booker T. Johnson High School in 1974, having participated in Naval Junior ROTC.
Harris went on to the U.S. Naval Academy at Annapolis, graduating with a B.S. in engineering in 1978. He subsequently earned a master's in public administration from John F. Kennedy School of Government at Harvard in the early 1990s and an M.A. in national security studies from Georgetown in 2000.
Harris went into naval aviation and, after flight school back in Pensacola, he was assigned as a tactical coordinator for P-3 Orion anti-submarine patrol planes, coordinating the personnel and the equipment in the back of the plane. From 1985 to 1987, Harris served as a tactical action officer aboard the carrier USS Saratoga, including participation in the response to the October 1985 hijacking of the cruise ship Achille Lauro and the April 1986 bombing of Libya.
He continued to advance up the chain of command in naval aviation, with stops in the Office of the Chief of Naval Operations from 1992 to 1993, commander of Whidbey Island Naval Base, and as special assistant to the Joint Chiefs of Staff from 1998 to 2000. He served as assistant chief of staff for operations, plans and political-military affairs, U.S. Naval Forces Central Command in Manama, Bahrain. Harris earned his first star in 2005 when he was again serving in the Office of the Chief of Naval Operations as director of Information/Current Operations.
On March 31, 2006, Harris took over as commander of Joint Task Force Guantánamo. Under his watch, three prisoners held at the base, Mani Shaman Turki al-Habardi Al-Utaybi, Salah Ali Abdullah Ahmed al-Salami and Yasser Talal Al Zahrani, died while in custody. Harris quickly declared the deaths to be suicides, saying: "I believe this was not an act of desperation, but an act of asymmetrical warfare waged against us." However an investigation by Harper's magazine cast considerable doubt on that verdict, pointing out the near simultaneous times of death while held separately; the improbability of the prisoners' ability to kill themselves in the manner described (stuff rags down their throats, and then climb up on a counter and hang themselves); and bruises and other injuries suffered by the prisoners. The article suggested that the three were killed during a torture/interrogation session held in a secret part of the base.
As reported earlier by AllGov, In order to accept Harris' explanation of the death of the three prisoners, "it is necessary to believe that each of them:
1) braided a noose by tearing up their sheets or clothing
2) hung the noose from the metal mesh of the cell wall or ceiling
3) made a mannequin of himself to trick the guards into thinking he was asleep in his bed
4) hung a sheet to block the view into his cell
5) tied his feet together
6) shoved rags into his mouth and down his throat
7) tied his own hands together
8) climbed up onto the sink, put the noose around his neck and jumped off, causing death by strangulation"
Harris left Guantánamo in 2007 to become director of operations for the U.S. Southern Command. The following year, he was in Washington as deputy chief of Naval operations and in 2009 Harris took command of the U.S. Sixth Fleet, based in Naples, Italy.
He returned to Washington in 2011 as assistant to the chairman of the Joint Chiefs of Staff. He gained what would turn out to be valuable diplomatic experience as the chairman's representative to the secretary of state and U.S. roadmap monitor for the Mideast peace process. Harris traveled with secretaries of State Hillary Clinton and John Kerry during that period.
In 2013, Harris was named commander of the U.S. Pacific Fleet and the following year was nominated to lead the U.S. Pacific Command. He took over the post in 2015 and was serving there at the time of his nomination as ambassador. At that time, Harris was the longest-serving active-duty Naval Academy graduate and the longest-serving active duty naval aviator.
According to Jacqueline Williams of The New York Times, "Last year, in two separate events, American warships under Admiral Harris's command were damaged and several sailors were killed in collisions. He also accepted full responsibility in April for a bewildering chain of events that mistakenly left the impression that the aircraft carrier Carl Vinson was rushing to confront an increasingly belligerent North Korea, when it was not."
Harris is married to Brunhilde "Bruni" Bradley, whom he met while both were serving in the Navy in Japan. Bradley retired from the Navy after 25 years as a commander and now serves as a member of the board of directors for the Military Child Education Coalition.
-Steve Straehley
To Learn More:
Commander, U.S. Pacific Command (U.S. Navy)
From Four Bars to Four Stars: First NJROTC Cadet to Reach Full Admiral Speaks to Navy's Newest Sailors (by Michael F. Miller, U.S. Navy)
Did Guantánamo Guards Murder 3 Prisoners? (by Steve Straehley, AllGov)
In Pacific, 1st Asian-American Fleet Leader (by Jeanette Steele, San Diego Union-Tribune)
The Guantánamo "Suicides" (by Scott Horton, Harper's)
Inside Guantanamo Bay by Harry B. Harris Jr, (Chicago Tribune)