U.S. Ambassador to Afghanistan: Who Is John Bass?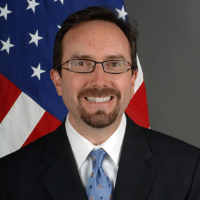 John Bass
John Rodney Bass, a career Foreign Service officer who has served as ambassador to Georgia and Turkey, was nominated July 20, 2017, to become the U.S. envoy to Afghanistan.
Bass was born in Marcellus, New York. His father, John Rodney Bass, a captain in the Air Force reserve and a pilot, was killed in June 1964 during a training flight in the Philippines before Bass was born. Bass' mother, Dianne, named him after his father. She moved her three children to Chatham, New York, in 1971. In high school, Bass played saxophone in the Chatham High School band and was am member, appropriately enough, of the Ambassador's Club. He graduated in 1982.
Bass went on to Syracuse University, where he studied international relations and was the editorial editor of the school newspaper. After graduating in 1986, he worked for a year as a newspaper editor in Canaan, New York. He also tried his hand as a political campaign consultant for a state senate campaign in Maryland, before joining the Foreign Service in 1988.
After learning French at foreign language school, Bass began his service in Chad, where he learned about the dark side of a diplomatic career when Bonnie Pugh, the wife of Ambassador Robert Pugh, was killed in the terrorist bombing of UTA Flight 772 on September 19, 1989, an attack orchestrated by Libyan dictator Muammar al-Gaddafi.
Bass was next posted to Belgium, first in Antwerp and then in Brussels. In 1993, he returned to Washington D.C. and spent the next five years as an intelligence analyst, desk officer for Belgium and the Netherlands and NATO desk officer.
In 1998, Bass went to work for Deputy Secretary of State Strobe Talbott, first as a special assistant for Europe and Eurasia. In that role, he was part of the peace negotiations for the Kosovo conflict. He was named Talbott's chief of staff in 2000, coordinating policy on arms reduction with Russia.
Bass served in the U.S. embassy in Rome as a labor counselor from 2002 to 2004, when he became a special advisor to Vice President Dick Cheney for policy on Europe and Eurasia. In 2005, Bass was named director of the State Department Operations Center, the department's communication and crisis management center. It's open around the clock and coordinates State Department responses to incidents throughout the world. During Bass's tenure, this included distributing $66 million of foreign donations from 151 nations and international organizations in response to the disaster caused by Hurricane Katrina.
Bass was sent to Iraq in 2008 as leader of a provincial reconstruction team based in Baghdad. After a year in that assignment, President Barack Obama chose Bass to be U.S. ambassador to Georgia, an important post at a time when that country was recovering from a military conflict with the Russian government. When the government of France approved the sale of two amphibious assault ships to Russia, Bass, on November 19, 2009, authored a cable calling it "'the wrong ship from the wrong country at the wrong time." He explained, "The symbolism of France, the broker of the ceasefire and a major NATO ally, taking this particular opportunity to make one of NATO's biggest sales ever to Russia will not be missed in Moscow or in Tbilisi. Not only on the symbolic level is the sale problematic; this type of ship will give Russia a new capability to enforce, or threaten to enforce, its will in the Black Sea." In 2011, Bass was charged by the Tbilisi government's opposition with "meddling in Georgia's domestic affairs" by encouraging the government's crackdown on protests.
In 2012, Bass was named executive secretary of state. The executive secretariat coordinates activities between the department's bureaus and leadership. It's also the liaison between the State Department and the White House, the National Security Council and other agencies.
Bass was confirmed as ambassador to Turkey in September 2014 after a somewhat contentious confirmation hearing the previous July. When Sen. John McCain (R-Arizona) confronted Bass with details of Turkish Prime Minister Recep Tayyip Erdoğan's crackdowns on free speech, Bass proved reluctant to criticize Erdoğan. McCain asked, "Do you believe—it is a pretty simple, straightforward question…that with his repression of social media, of his desire to change the constitution to be a more powerful president, which he obviously will be, is a drift towards authoritarianism?" Finally, when McCain threatened to withhold Bass's nomination if he didn't get a direct answer, Bass, after 3 minutes 25 seconds of hedging, conceded that "It's a drift in that direction, yes." His nomination was approved by the Senate in a unanimous vote. When Erdoğan really did seize greater personal power, and various U.S. officials complained, it was Bass who had to take the verbal heat.
In May 2017, after the mayor of Ankara, Melih Gökçek, ridiculed U.S. embassy spokeswoman Marie Harf as a "dumb blonde," Bass trolled the mayor by posting a picture of himself with his hair blonde instead of its natural brown on Instagram with the caption "American diplomats: we're all blonde."
Later that month, Bass was forced to endure Turkish government protests of the detention of bodyguards for Foreign Affairs Minister Mevlüt Çavuşoğlu. The bodyguards attacked protesters outside the Turkish ambassador's residence in Washington.
Bass' first wife, Lisa Hardy, a 22-year veteran of the Foreign Agricultural Service, died of breast cancer in 2006. In 2011, Bass married a fellow career Foreign Service officer, Holly Holzer, whom he met while he was ambassador to Georgia. She is an accomplished photographer and has had several exhibitions of her work. The two are avid runners and have competed in the Bay-to-Breakers race in the San Francisco Bay Area.
Bass speaks Italian and French. Encouraging others to join the Foreign Service, he told Vince Pecoraro of the Chatham Courier, "For all the things that on the surface appear to divide us, you find that—especially as you learn a language or learn about a culture by living in it—that it is simply a different lens on the same set of subjects, a different way of looking at the world, but the subjects and aspirations are really the same."
-David Wallechinsky, Steve Straehley
To Learn More:
Chatham Native, John Bass, Nominated to Be Ambassador to Afghanistan (by Richard Moody, Columbia-Greene Media)
Turkey Summons U.S. Ambassador Over Washington Brawl (by Jane Onyanga-Omara, USA Today)
U.S. Ambassador to Turkey Goes Blonde in Solidarity With Spokeswoman Called 'Dumb Blonde' (by Charlotte Alter, Time)
Testimony Before Senate Foreign Relations Committee (pdf)
State Department Cables Regarding Georgia 2009-2010 (WikiLeaks)
More State Department Cables 2002-2010 (WikiLeaks)