U.S. Agrees to Minor Payment for Navy's Damage to Philippine World Heritage-Listed Coral Reef Park
Saturday, February 21, 2015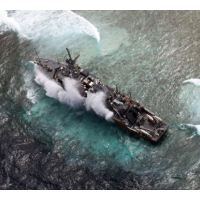 Navy's USS Guardian trapped in the Tubbataha Reef (photo: WESCOM/AFP/Getty Images)
A U.S. Navy vessel ran aground off the Philippines two years ago, damaging a prized coral reef. But the U.S. is going to pay less than $2 million to help restore the World Heritage site, far less than environmentalists say it will cost to restore the reef.
The mess was created when the captain of the minesweeper USS Guardian ignored warnings from park rangers and relied on outdated navigation maps, resulting in the ship striking the Tubbataha Reef in January 2013. The ship became stuck on the coral reef and eventually had to be dismantled in order for it to be removed from the sensitive marine habitat.
The Philippine government asked Washington to pay $1.9 million to pay for work to mitigate the damage caused to the coral reef—an amount U.S. officials agreed to. But a Philippines-based environmental group, the Kalikasan People's Network for the Environment, has criticized the financial compensation as too low. They claim it will take between $17 million and $27 million to rehabilitate the reef.
"The said financial compensation is not enough to release the U.S. from their liabilities and absolve the U.S. Navy for the crime that the U.S. Navy did in Tubbataha. The U.S. Navy not only incurred considerable damage to our world heritage site, they also clearly violated our Philippine sovereignty and laws," Clemente Bautista, national coordinator of Kalikasan PNE, said in a press release, according to Common Dreams.
The cause of the grounding was traced to an inaccurate chart, but the Navy also found the crew at fault. Four officers, including the captain, were relieved of duty.
-Noel Brinkerhoff
To Learn More:
U.S. Pays Out 'Peanuts' for Eco-Crime Committed in Philippines (by Andrea Germanos, Common Dreams)
Untold Tale Behind USS Guardian Reef Grounding: NGA's Map Was Wrong By 8 Miles (by Colin Clark, Breaking Defense)
Command Investigation into the Grounding of USS Guardian on Tubbataha Reef, Republic of the Philippines that Occurred on 17 January 2013 (Department of the Navy) (pdf)