United States Ambassador to Guatemala: Who Is Luis Arreaga?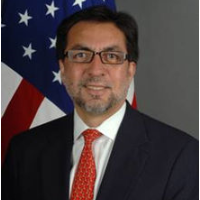 Luis Arreaga
Luis E. Arreaga Rodas, a career Foreign Service officer who was born in Guatemala, is set to return to his native country as U.S. ambassador.
Arreaga was born in Guatemala City in 1952, son of a migrant worker and an elementary school teacher. He came to the United States—specifically Milwaukee, Wisconsin—at age 18 and began taking classes at Milwaukee Area Technical College. While on the fencing team there, Arreaga met Mary Kelsey, who became his wife in 1973. Arreaga transferred to the University of Wisconsin-Milwaukee, where he earned a bachelor's degree in 1976 and a master's in management and a Ph.D in economics in 1981. He became a U.S. citizen in 1975.
Arreaga began his career in the U.S. Agency for International Development (USAID). He worked there as an economist for 11 years, stationed in Peru, El Salvador and Honduras. Arreaga then moved over to the Foreign Service. At the United Nations mission in Geneva, he coordinated U.S. government assistance after the 1994 genocide in Rwanda. He later served as special assistant to the undersecretary for political affairs (1999-2000); as deputy director of the State Department Operations Center (2000-2001); and as director of the Executive Secretariat staff.
Arreaga then went to Vancouver in 2002 as consul general. In 2005 he was sent to Panama as deputy chief of mission and chargé d'affaires. He returned to Washington in 2008 as director of recruitment, examination and employment. There, Arreaga presided over the largest intake of Foreign Service officers in State Department history.
Arreaga was first made an ambassador in 2010, when he was confirmed as the envoy to Iceland. The following year, he was confronted by the Icelandic government when U.S. officials subpoenaed a member of the country's parliament in the WikiLeaks controversy. On the whole, Arreaga's tenure was positive though, even getting to watch "Game of Thrones" being filmed in the rocky country.
He was back in Washington in 2013 as principal deputy assistant secretary in the Bureau of Narcotics and Law Enforcement Affairs with responsibility for drug trafficking worldwide and support for law enforcement in the Western Hemisphere. He held that position on June 29, 2017, when he was nominated for the Guatemala post.
Arreaga and Kelsey have a daughter, Melania, who served in the Foreign Service; and two sons: Juan Carlos and Luis.
-Steve Straehley
To Learn More:
As Ambassador to Iceland, Luis Arreaga Returns to UWM for Lifetime Award (by Bill Glauber, Milwaukee Journal Sentinel)
An Interview With Luis E. Arreaga, U.S. Ambassador to Iceland (by Sasha Frankel, The Politic)