Under Secretary for Energy Science: Who Is Paul Dabbar?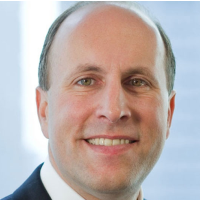 Paul Dabbar
Paul M. Dabbar, who worked on energy sector mergers and acquisitions for J.P. Morgan for more than 20 years, was nominated July 11, 2017, to lead the Office of Science in the Department of Energy (DOE).
Dabbar was born to Pearl and Michel Dabbar. Michel was an immigrant from Egypt who became an executive at Phillips Petroleum, retiring as the vice president for worldwide trading and supply in the refining, marketing and transportation division. Paul grew up in Bartlesville, Oklahoma, home of Phillips. His mother, a native of North Dakota, joined the Foreign Service after World War II. Dabbar graduated from Bartlesville High School in 1985 and went on to the U.S. Naval Academy, where he earned a B.S. in marine engineering in 1989. He subsequently earned an MBA from Columbia University in 1996.
Dabbar joined the Navy at the age of seventeen, was eventually promoted to ensign and served from January 1992 until June 1994 as a nuclear engineering officer on the submarine USS Pintado. He also participated in nuclear research for the Defense Department at Johns Hopkins Applied Physics Laboratory.
Since 1996, Dabbar has worked for investment banker J.P. Morgan, where he handles mergers and acquisitions of power plants and utilities, and has participated in the sale of 20 nuclear power plants. At the time of his nomination, he was managing director of the Global Mergers and Acquisitions Group and head of energy mergers and acquisitions.
Since the second administration of President George W. Bush, Dabbar has been a member of the DOE's Environmental Management Advisory Board, which provides independent and external advice, information, and recommendations on corporate issues relating to accelerated site clean-up and risk reduction.
Former Energy Secretary Ernest Moniz was not pleased with Dabbar's nomination, primarily because it is undoing a reorganization of the Energy Department that Moniz instituted. Moniz had combined the under secretary of energy and of science into one position to facilitate innovation. "We must have the ability to closely integrate and move quickly among basic science, applied research, technology demonstration and deployment. The innovation chain is not linear," Moniz wrote at the time.
In reaction to Dabbar's appointment, Moniz told E&E News that having one under secretary for science and energy "had a demonstrably positive impact in better integrating crosscutting science/energy research initiatives and in bringing thirteen national laboratories under one under secretary. I would ask what metrics were used to revert to the previous arrangement."
Dabbar has been a reliable donor to Republican political campaigns, including to that of Donald Trump in 2016.
Dabbar and his wife, Andrea (Reinwald), were married in 2000. They have two children, Katie and Will.
-Steve Straehley
To Learn More:
Confirmation Hearing Testimony to Senate Committee on Energy and Natural Resources
Moniz Is Steamed as Trump Team Overhauls Agency (by Christa Marshall and Hannah Northey, E&E News)