Tuvalu's Ambassador to the United States: Who Is Samuelu Laloniu?
Friday, September 08, 2017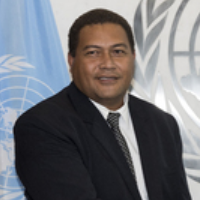 Samuelu Laloniu (photo: Kim Haughton, UN)
Samuelu Laloniu, who has been a part of his country's Foreign Service for the past decade, presented his credentials as Tuvalu's ambassador to the United States on July 21, 2017. He is serving concurrently as Tuvalu's permanent representative to the United Nations.
Laloniu was born May 15, 1969. He went to college in New Zealand, first graduating from the University of Otago in Dunedin, then earning an M.A. in public policy at Victoria University in Wellington.
In 1983, he contributed sections on "Land" and "Singing and Dancing" to the book Tuvalu: A History.
Laloniu began his government career in 1994 at the Ministry of Natural Resources as a fisheries research and development officer. In 1997, he served as Pacific regional project associate at the Food and Agriculture Organization Office in Fiji, and in 1998 he represented Tuvalu at the United Nations Framework Convention on Climate Change in Buenos Aires. By 2003, he was assistant secretary in the Ministry of Communication and Transport.
In 2006, Laloniu was named deputy high commissioner to Tuvalu's fellow Commonwealth nation, Fiji. He went to New York in 2009 as deputy permanent representative to the UN. Laloniu began a long stint in New Zealand in 2010, first as consul general in Auckland. In February 2015, he opened Tuvalu's first High Commission in New Zealand and served as high commissioner, or ambassador, until 2017.
As a diplomat from an island nation, Laloniu applauded the U.S. agreement to the Paris Climate Accords. "The ratification by the U.S. and China is great news because without the commitment of the two biggest polluters we have little hope of the Paris agreement having the power of law," Laloniu said in September 2016, according to Pacific Guardians. "We need the Paris Agreement to come into force now and its implementation to progress speedily because for Tuvalu and low lying atolls, we are already suffering from climate and sea level rise. Living with fear and uncertainty on a daily basis is not our normal way of life nor should it be anybody's." Now Laloniu will be dealing with an administration that has pulled out of the accords, increasing the chances that his country will be flooded.
Laloniu and his wife, Tarataake, have two children.
-Steve Straehley
To Learn More:
Official Biography (United Nations)
American Samoa Highlights Polynesia's Role in U.S. Position on Climate Change (Pacific Guardians)