Trump Wins the Summer Soap Opera, While Favorites Bush, Walker and Rubio Wait in the Wings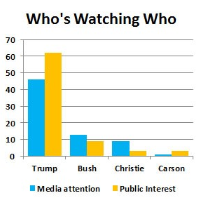 (graphic: Steve Straehley, AllGov)
Donald Trump certainly has gotten the attention of Americans of all political persuasions.
Nate Silver at FiveThirtyEight looked at media coverage of the Republican candidates for president over the past month (excluding Trump's recent bashing of John McCain's war record) and found Trump had truly become the elephant in the room of elephants.
Stories on Google News showed 46% of the media coverage of the GOP campaign was focused on Trump. The rest of the field was far behind, with Jeb Bush garnering only 13%, Chris Christie 9%, Scott Walker 8%, Bobby Jindal 6%, Ted Cruz 4% and Marco Rubio 4%.
Silver also looked at how "obsessed" the public was with Trump by examining Google search traffic during the same period. Those results revealed that if anything, the media was actually underreporting Trump's rhetorical outbursts. Among the GOP candidates, Trump represented 62% of the Google search traffic, "having been searched for more than six times as often as second-place Bush," Silver wrote.
Still, Trump is not considered a serious bet to win the GOP nomination. According to Microsoft's PredictWise, his chances are pegged at 4%, compared to Bush's 41%. Three other candidates are also given a better chance than Trump: Rubio at 16%, Walker 14% and Rand Paul 6%.
Silver's data also shows a few other candidates have been over-reported in comparison to their public interest. Chris Christie got 9% of the media coverage, but only 3% of Google search traffic. Scott Walker's numbers were 8% vs. 5% and Bobby Jindal's were 6% vs. 3%.
Candidates who received less media attention than their interest among the public might warrant were Ben Carson, who received only 1% of the media coverage, but 3% of the Google search traffic; and Rand Paul, who got 2% of the media attention but drew 3% of the public's interest.
-Noel Brinkerhoff
To Learn More:
Donald Trump Is The World's Greatest Troll (by Nate Silver, FiveThirtyEight)
2016 Presidential Election - Likelihood of Republican Nomination (PredictWise)
A Note About Our Coverage Of Donald Trump's 'Campaign' (by Ryan Grim and Danny Shea, Huffington Post)