The Long History of White Men Attacking Black Churches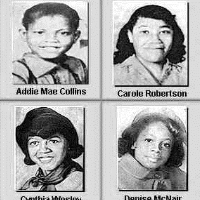 Victims of the 1963 Birmingham church bombing
When nine people were shot to death Wednesday at the Emanuel African Methodist Episcopal Church in Charleston, South Carolina, it was by no means a one-off attack by a "lone wolf." Instead, it was just the latest in a campaign of violence carried out by white men on predominantly black churches.
The civil rights struggles in the 1960s were filled with violence against black churches, most famously the September 15, 1963, bombing by members of the Ku Klux Klan of the 16th Street Church in Birmingham, Alabama, in which four girls, one 11-year-old and three 14-year-olds, were killed. But the violence didn't end then. From 1989 to 1996, for instance, more than 200 black and multiracial churches were burned in the United States. In March 22, 1997, two men burned down the Macedonia Baptist Church in Ferris, Texas. Asked why they did it, according to the U.S. Attorney General's Office, one of the men, Robert Allen Stillman, responded, "because it was a n----- church."
Nor is the violence confined to the South. In 2008, the Macedonia Church of God in Christ, under construction in Springfield, Massachusetts, was burned the morning after the election of Barack Obama to be president. Three white men, Michael Jacques Jr,, Benjamin Haskell and Thomas Gleason, were found to be guilty of that crime.
The church is "a symbol of the black community," Heidi Beirich, director of the intelligence project at the Southern Poverty Law Center, told The New York Times. "If you want to harm black folks, it's an obvious easy target."
It's not even the first time the Emmanuel church has been targeted. In 1822, after church members were hanged for alleged involvement in a planned slave uprising, a white mob burned the original building to the ground.
And the threat of violence continues. On Thursday, 400 people were evacuated from the Allen Temple AME Church in Greenville, South Carolina, during a prayer vigil, due to a bomb threat, and the Morris Brown AME Church in Charleston was evacuated for the same reason on the same afternoon. On Friday, there was a bomb threat against Washington D.C.'s Metropolitan AME Church.
-Steve Straehley
To Learn More:
The Recent, Hateful History of Attacks on Black Churches (by Brandon Ellington Patterson, Becca Andrews, and Gregory Barber, Mother Jones)
Black Church Is Target Again for Deadly Strike at the Heart (by Rachel L. Swarns and Campbell Robertson, New York Times)
Violent History: Attacks on Black Churches (New York Times)