Tar Sands Oil Pipeline would Violate Bush-Era Pollution Law
Wednesday, September 21, 2011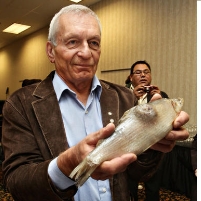 Deformed fish caught in Lake Athabasca, Alberta, downstream form oil sands (photo: Jason Franson, Canadian Press)
The Obama administration, which supports the end of global warming, has embraced a petroleum project that would help produce oil so bad for the planet that the oil-friendly administration of George W. Bush outlawed its use in the United States.
And yet the Obama administration is seriously considering approval of the Keystone project and allowing the carbon-laden oil to enter the country.
The American Petroleum Institute and its allies in Congress have repeatedly tried to repeal section 526. Supporters of the project argue that Keystone won't violate federal law because the plan is to export the processed tar sands oil to other countries, and not sell it domestically.
-Noel Brinkerhoff