Surgeon General Report Accuses Cigarette Smoking of Causing Diabetes, Arthritis and Erectile Dysfunction
Saturday, January 18, 2014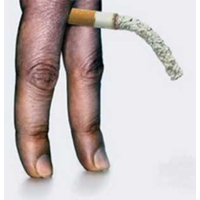 Smoking is bad for…you name it. The latest report from the U.S. surgeon general, which refers to cigarette smoking as a "century-long epidemic," blames cigarettes not just for lung cancer and heart disease, but a whole host of diseases and health disorders.
Dr. Boris D. Lushniak, the acting surgeon general, significantly expanded the list of health problems caused by smoking to include diabetes, colorectal and liver cancers, erectile dysfunction, ectopic pregnancies (those occurring outside the womb), vision loss, tuberculosis, rheumatoid arthritis, impaired immune function and cleft palates.
"Smoking has been known to be associated with these illnesses, but the report was the first time the federal government concluded that smoking causes them," wrote Sabrina Tavernise of The New York Times.
The latest report follows on earlier ones that added to the list of smoking-related diseases, such as the addition of bladder cancer in 1990 and cervical cancer in 2004.
Smoking is the biggest cause of premature death in the United States, killing more than 400,000 people annually.
Lushniak noted in his new report that far more Americans have died prematurely from cigarette smoking—20.8 million since 1964—than in all the wars ever fought by the United States. This includes 2.2 million attributed to exposure to secondhand smoke. The new report also calls secondhand smoke a cause of strokes.
The year 1964 was a pivotal one for the surgeon general's office. That year marked the first time the government blamed cigarettes for causing lung cancer. Back then, more than 40% of all adults smoked. Today, only 18% use cigarettes.
The surgeon generals' report concludes that "The tobacco epidemic was initiated and has been sustained by the aggressive strategies of the tobacco industry, which has deliberately misled the public on the risks of smoking cigarettes."
-Noel Brinkerhoff
To Learn More:
List of Smoking-Related Illnesses Grows Significantly in U.S. Report (by Sabrina Tavernise, New York Times)
Surgeon General Report Links More Diseases, Health Problems To Smoking Tobacco (by Brady Dennis, Washington Post)
Executive Summary: The Health Consequences of Smoking —50 Years of Progress (Office of the Surgeon General) (pdf)
The Health Consequences of Smoking—50 Years of Progress (Office of the Surgeon General) (pdf)
With 1,200 Deaths a Day, Tobacco Companies Finally Agree to Publish Ads Admitting They Lied about Dangers of Smoking (by Noel Brinkerhoff, AllGov)